Crime News
LLyod Toku Mike, ALUU 4 Murder Victim' Burial: I Feel His Presence At Home Says Dad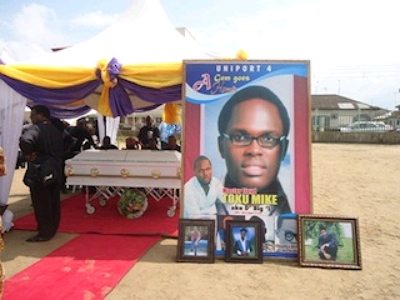 Nov 16, 2012 – LLyod Toku Mike, ALUU 4 Murder Victim Burial: I Feel His Presence At Home Says Dad
LLyod Toku Mike, one of the four University of Port Harcourt students lynched by the Umuokiri-Aluu community on October 6, was today laid to rest with the bereaved parents crying for justice and immortalisation of the murdered son.
In a ceremony laden with emotions, Toku Mike's father and the mother told P.M. at the Township Stadium in the old Port Harcourt, that the only thing that could assuage them is that "justice should not only be done,but must be seen to be done".
Toku Mike's mother expressed what she called "inner joy that the evil labels of being thieves and cultists put around her son and his friends were cleared by the Inspector-General of Police,Mohammad Abubakar,who exonerated the innocent persons murdered when they went to recover debt from somebody who promised one of them accommodation,but wickedly raised alarm alleging they were thieves."
Toku's father said he still feels the late Lloyd around the house."I still remember him holding his mother by her shoulders assuring her that the future would be bright for the family by the time he finishes his University education and make inroads into his musical career. All that dreams have been brought to an abrupt end."
Toku Mike commended the Police on the arrest of suspects in the killing of the ALUU 4. He however added that more suspects are still at large.
On his impression of the Omuokiri-Aluu Community,he said:
"I strongly advice parents and students of UNIPORT not to live in that community because they don't value human lives"
Mr Victor Burubo,the National Publicity Secretary,who Spoke on behalf of the Ijaw National Congress,INC, the umbrella body of all the Ijaw people,including Okrika War Canoe house,where Toku Mike hailed from,said they are saddened by the death of two of their sons,Lloyd and Tamuno-Itekenasam Elkanah. He however said the community would not embark on a blind revenge.
Mr.Onyema Baringa, the father of Chiadika Lordson Baringa,one of the UNIPORT four student also murdered said that the Parents are shocked that none of the representatives of the Ikwerre local Government where the incident happened, State and Federal Government came to condole them to date.
"It is sad.Their coming to condole us will not bring back our sons,but I thought they could show concern".
He called for the University authorities to immortalise the slain students.
Tombara Mike Yalah,the National President,Niger Delta Students Union Government from the Rivers State College of Arts and Science,RIVCAS,called for the immediate release of fellow students languishing in jail in various Police Cells for protesting against the killing of their colleagues.(Credit: PMNews)