Crime News
Mad Woman Who Allegedly Kidnapped A Child In Agege Lagos Rescued By Police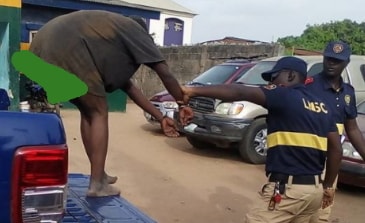 A mentally challenged woman accused of kidnapping a child today, Tuesday the 27th of March 2018 in Agege Lagos has been rescued.
The woman simply identified as Nosimo, an indigene of Ilisha in Osun state escaped death as a angry mob was about to burn her alive at Kolawole Street in Orile Agege when some Operation Officers on patrol rescued her.
She has been taken to Dopemu Police station for questioning.
A mentally unstable woman needs help and not this kind of ill treatment from the society.
So sad!!