Crime News
Maltreatment Of Nigerian Traders In Ghana: NANTS Raises Alarm As Woman Takes Own Life Over Shops Closure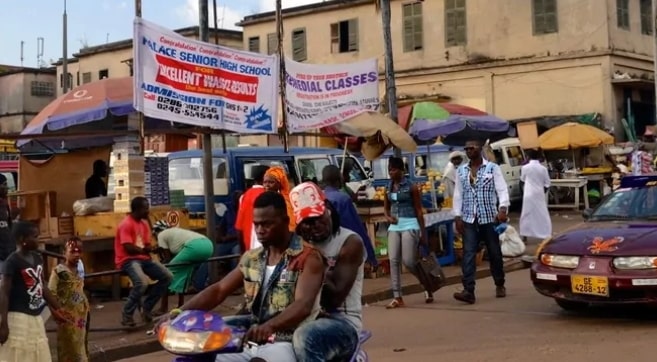 Nigerian Woman Commits Suicide After Shop Was Locked Up In Ghana, NANTS Raises Alarm Over Maltreatment Of Nigerian Traders In Ghana
After the closure of her shops by Ghanaian authorities, a Nigerian woman and mother of three reportedly committed suicide, the National Association of Nigerian Traders, Ghana chapter, reported in Abuja on Tuesday.

The association made the development known when the leadership visited the Senior Special Assistant to the President on Foreign Affairs and Diaspora, Mrs. Abike Dabiri-Erewa, to seek the intervention of President Muhammadu Buhari on the matter.

The President of NANTS, Ghana, Chukwuemeka Nnaji, said Mrs. Stella Ogonna Okpaleke, a Nigerian whose shops were locked for her failure to meet strict trading conditions commanded by the Ghana Government, committed suicide on September 22.

Nnaji, armed with a petition to Buhari, called for the intervention of the Federal Government over the alleged maltreatment of Nigerian businessmen in Ghana.

"Regrettably on Saturday, September 22, one of our female members, Mrs. Stella Ogonna Okpaleke, whose shop has been under lock and key by the Ghana authority, committed suicide.

"She committed suicide based on her shop and that of her husband that were locked. The information we gathered was that when the authorities locked the shop, she lost hope of having it reopened.

"She is from Nnewi Local Government Area of Anambra State. We actually don't know how much she owed, but we learnt that she took loan for her business," Nnaji said.
According to him, the harassment on the Nigerian community and traders in Kumasi, Ghana, is so severe.
"It is unfortunate that this woman decided to take her own life," Nnaji said, and called on Buhari to urgently intervene to avert similar incidents in the future.
He said Nigerian traders were being unnecessarily stressed by Ghanaian authorities.
In her remark, Dabiri-Erewa expressed the Federal Government's condolences to the union and the family of the deceased.
She appealed to members of the union to remain calm and assured them that the President would intervene in their case to ensure a lasting solution to the problem.
"I am just going to start by appealing to you. I know it is painful, it is emotional, it is deep, but I just urge you to remain calm.

"I appeal to you to remain calm and may the soul of Stella rest in perfect peace.

"When she is about to be buried, let us know so that we may send our condolence message to the family," she said.
NAN recalls that Nigerian traders were shut out of their business premises in line with an eviction order of July 27.
The Ghanaian authority is demanding that traders have $1m as minimum foreign investment capital to do business in Ghana, as stipulated in its Ministry of Trade and Industry Act, 2013.
(NAN)