Crime News
Man Arrested For Defiling A 3-Year Old Girl In Lagos, Nigeria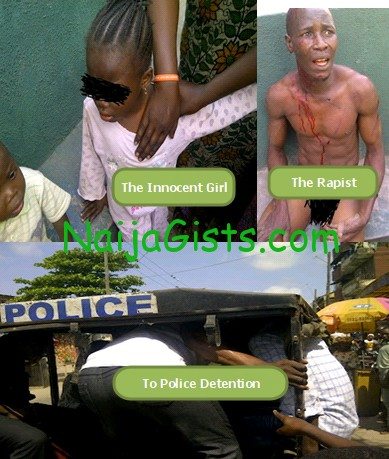 Sept 1st, 2012 –Man Arrested For Defiling A 3-Year Old Girl In Lagos, Nigeria
This very sad event happened on Thursday after at Adeniji Adele area in Dolphin Estate Phase 2, Lagos state Nigeria. naijagists.com
A 3 year old girl suddenly ran into a woman's shop with a loud cry.
The concerned woman asked the little girl why she was crying however, the youngster could not express herself probably due to the shock she received.
According to the woman, the 3-year old girl kept pointing to a direction while crying loudly.
About 5 minutes later, the woman saw a young man approaching her shop and calling the little girl to follow him.
The woman challenged him why he was asking for the girl to follow him, after consistent questioning, the man attempted to run away.
The woman quickly raised an alarm thinking he was a kidnapper, not knowing he had done something much worse.
Area youths quickly grabbed the man.
The man who confessed he wasn't a thief claimed the youngster is known to him.
After a lot of questioning, the 3 year old told the people the man had earlier taken her to the last floor of a 3 storey building and defiled her.
The women around quickly checked the youngster underwear and to their surprise, they saw blood all over her private parts.
The blood which had even descended to her legs.
The area youths took revenge by giving the man the beating of his life. He was beaten mercilessly and stripped naked.
Someone later alerted the police who took the man to detention.
OMG this man is heartless.
Can you imagine the kind of pain this innocent girl must have passed through.