Crime News
Man Uses Brother For Money Ritual, Buries His Wood Statue In Nnewi Anambra State (Photos & Video)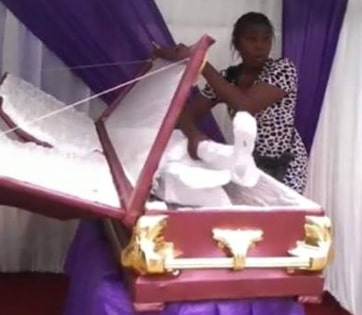 Photos & Video: Man Uses Younger Brother For Money Ritual, Buries His Wood Statue In Nnewi Anambra State
A mild drama took place at a burial last Friday after a man buried the wood statue of his missing 'brother' in Nnewi town, Anambra state.
The suspect who allegedly used his brother for money ritual in 2016 told his kinsmen that he is yet to find his corpse and exactly 3 years later, he declared that his corpse has been found.
On Friday November 23rd 2018, Mr Ikechukwu Nwosu invited his friends to the funeral service of his brother, Sunday Nwosu without the consent of his family members.
To cover up the content of the casket, he ordered it not to be opened
Following a tip off, his younger sister stormed the venue and forcefully opened the casket.
To the surprise of everyone, a carved statue of his brother was found in the casket.
The corpse of Late Sunday who died mysteriously after a trip on the 10th of January 2016 is yet to be found as at the time of this report.
See photos from the bizarre burial ceremony below
Residents of Otolo Nnewi are now calling for the arrest of Ikechukwu Nwosu to produce the missing corpse of his brother.
Watch the short video clip of his younger sister lamenting the moment she discovered the carved wood statue below.
https://www.youtube.com/watch?v=VPGgtjqBsCE
What a wicked world!!!. RIP Sunday Nwosu.