J Martins and Wife Nnezi
Jan 16, 2012 – Marriage Galore: 10 Nigerian Celebs Wed In One Month
It's  definitely the season of getting hitched – at least as far as the entertainment industry goes. With over half-a-dozen players saying 'I Do' within one month, it seems the spirit of settling down is taking residence here. naijagists.com
First, it was the Nollywood actor Chinedu 'Aki' Ikedieze who tied the knot with his heartthrob Nneoma Nwajah on Saturday, November 26, 2011 at the bride's residence in Imo State. This was followed by Nikki Laoye's touchingly romantic wedding in Lagos. Nikki exchanged vows with her 'lover boy' Alex Oturu at the Grandeur Event Centre, Ikeja on Sunday, December 11, 2011.
Next up was Muma Gee's December 20 wedding. Producer-singer Samklef would soon follow, on December 28, with a ceremony that became the talk-of-the-town and stayed in the news for weeks. Within the past four weeks, some of our favourite bachelors and bachelorettes have taken the bold step, exchanging vows with their partners in the last days of 2011.
In an industry where separation and divorce rates are increasingly high; where most celebs believe staying single is good for business, it's interesting, and heart-warming, that the likes of Naeto C, Samklef and Soul Snatcha – all young men by marriage standards – are happy to settle down. And we're confident the success of their marriages will encourage more of their contemporaries to follow suit.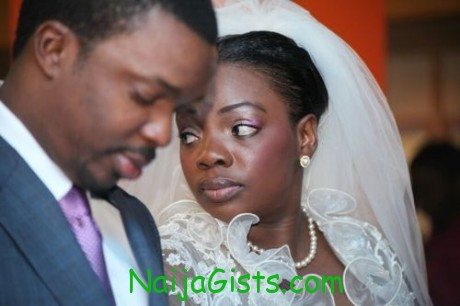 Soul Snatch and Abimbola
Engaged -Ikechukwu and Sarah Ofili
Obiora-Obiwon and Nkechi-Obioma
Aki and Nneoma Nwaijah
Nikki Laoye and Alex Oturu
Muma Gee and Prince Eklips Eke
Samklef and Yvonne Iheduru
Naeto C and Nicole Chukwueke
Joice and Bruno Akuazaoku
Nikki Laoye and Alex Oturu (Credit: Nigerian Entertainment Today)