Entertainment News
May D Abandons Nigerian Babymama & Son, Marries White Girlfriend Carolina Wassmuth [Wedding Photos]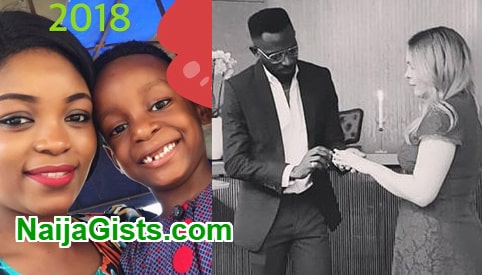 May D Abandons Nigerian Babymama And Son, Marries White Lover Carolina Wassmuth [Wedding Photos]
Singer May D Nigerian Baby Mama Keeps Mum As He Marries Swedish Woman
Singer May D's abandoned Nigerian baby mama is not saying a word close to 24 hours after her baby daddy entered a marriage agreement with a white lady .
Adebola who has been taking care of  May D's child since he allegedly abandoned them in 2013 is yet to utter a word 24 hours after May D shared photos from his wedding ceremony online.
The singer married his long time white lover, Carolina Wassmuth yesterday six months after their engagement.
Caroline Wassmuth is said to be a single mother of an adorable girl before May D came into the picture.
The newly married couple welcomed a baby boy on the 18th of October 2018.
It has now become a common trend among Nigerian entertainers to abandon their Nigerian women for Oversea lovers.