Crime News
Sunday Afobale, Killer Togolese Cook Who Killed Nigerian Boss In Ikoyi Lagos Arrested In Ondo State [PHOTOS]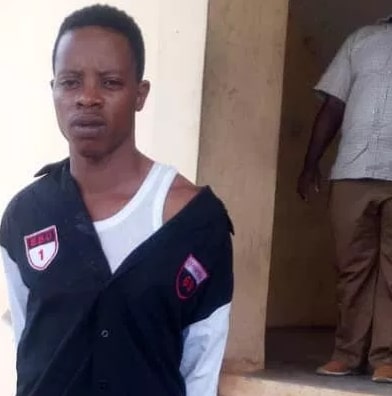 Sunday Afobale, Killer Togolese Cook Who Killed His Nigerian Boss In Ikoyi Lagos Arrested In Ondo State [PHOTOS]
Chief Ope Bademosi's killer has been arrested at his hideout in Ondo state.
The suspect identified as Sunday Afobale murdered Credit Switch Technology boss, Chief Ope Bademosi in Ikoyi Lagos before fleeing few days ago.
He was picked up early this morning after a tip off call reached the police from someone who identified him by his outfit.
He is currently being detained at Fagun Police State in Ondo state.
According to eyewitnesses, the killer chef was weeping like a child when he was arrested.
He allegedly blamed anger problem for the brutal murder.