Hot Gists
Mercy Aigbe Speaks On Failed Marriage: My Mother-In-Law Breaks My First Marriage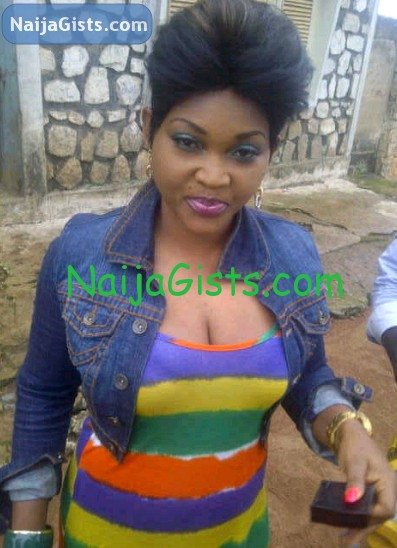 Dec 2nd, 2012 – Mercy Aigbe Speaks On Failed First Marriage – My Mother-In-Law Forced Me To Leave My Husband
Beautiful Nigerian actress Mercy Aigbe, a caring mother of two children has narrated why she left her first husband in this interview with Showtime Celeb.. naijagists.com
In the recent interview with Showtime Celebrity, the actress said her first mother-in-law who didn't like her forced her to give up on her first husband.
The sexy actress who said her ex mother-in-law gave her hell said she didn't make any mistake in her first marriage. Mercy Aigbe said the troubled she passed through in her first matrimonial home was caused by hatred she suffered from her then mother-in-law.
Interview excerpt below:
So what were those mistakes you made in the last one that you wouldn't want to repeat in this one?
It's not like I'm trying to sound holy but, I didn't make any mistake. I just feel it was meant to be like that. I had a mother-in-law who didn't like where I come from. She didn't like the fact that her son didn't marry a lady from their village. She made me go through hell. At a point when I couldn't take it any more, I left the marriage.
So you wouldn't blame those ladies who wish their mother-in-laws were dead before they got married?
I swear I wouldn't blame them. If I think back to what I went through, I wouldn't pray for anyone to go through such because I went through hell in the hands of that woman. And for me to have woken up one day and decided to leave, it wasn't easy because I was young and tried my best to please her. But she wasn't pleased. I went out of my way to learn their language, learn how to cook different dishes just to please her but she didn't budge.
So what did your ex-husband do about it?
At first, he actually fought it but some women have a strong hold on their sons. In the end, he obeyed her. He didn't like it that I was leaving but he couldn't hold me back at the same time because he wanted to please his mum. We had fought the battle for a long time and it wasn't as if it would come to an end, I had to leave.
Mother-in-law palava.
Can anyone relate with this?