My Husband Charles Inojie Not Romantic Like Most Nigerian Men – Wife Exposes Nollywood Actor
Excerpts of  Obehi Inojie, wife of comic actor Charles Onojie recent tell-it-all interview with Benjamin Njoku.
Hooking up with him
He was the one that hooked up with me. He wanted a beautiful, intelligent, hard working and resourceful woman and he got the qualities in me.
My fears
I was initially afraid of sharing him with someone else but now I am no more afraid. As I grew older in marriage, I got to meet other women who are married to celebrities. And I am doing better now. I'm trying to give him all my support. That's what he needs to grow in the industry. It's not as if the fear is not there, I just resolved within myself that, let the will of God be done between us. If we are meant to live together, nothing would stop it.
Attraction
He's a very kind man. My husband is a selfless person. Before thinking about himself, he first and foremost thinks of everybody around me. He wants them to be happy before he thinks about himself. It's one of the things I really love about him. It's not easy to find a man that would care less about himself at the expense of people around him. He's exceptional so to say.
How I met him
I met him for the first time in Europe and when I found out that he's from Edo State, I decided to give him a chance. It was what caught my attention and, again, I was convinced he wasn't going to harm me in any way because I also hail from Edo State. It was a kind of distant relationship before we finally decided to walk down the aisle.
Courtship
We courted for more than three years before we walked down the aisle. I was working then and I am the kind of woman that believes women should not wholly depend on a man for anything she wants. What happened was that I tried to make time for my work as well as for him. We did it in a way that our relationship did not disturb our works. I would talk with him when he was free and he would talk with me when I was less busy.
What has changed about him after six years in marriage?
He's the same person. It's just that he's looking better now than when I met him because I am taking good care of him. Then he needed a lady's touch in his life and I happened to be that person to give the magic touch.
What has kept marriage going?
Patience, good foods, understanding and prayers! Marriage is all about patience. If you depend only on the love you have for your spouse, it won't be enough. You need to be patient and allow things to fall in place.
You need to be prayerful as well as being your husband's friend. I hardly see him at home because of the nature of his job. And I believe he's out there working hard for us and I try to give him every support he needs.
And it has been working for us. My way of supporting him is to make the home peaceful for him so that when he's returning from his place of work, he would be sure he's coming home to reunite with his family and not to meet a nagging wife.
Being romantic
I score him 60/100. When you talk of romance, Nigerian men are not there.
They need to learn a lot from their wives if they will ever listen to them.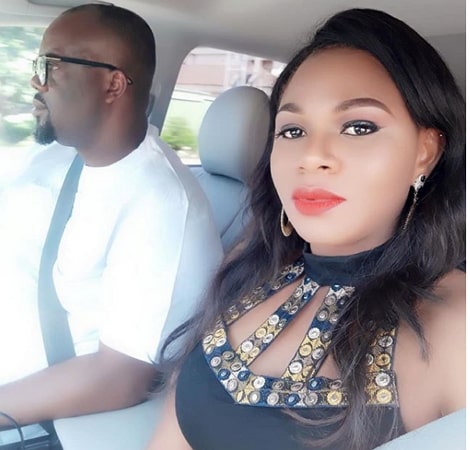 You wouldn't expect my husband to give you a row of flowers, but during special events like Valentine's Day, he tries not to miss out so as not to make you feel bad.
Hanging out with him
He does take me out once in a while.
We are hanging out today. It's like a date for me. Most times, when he's not around, my kids take his place. I cherish them so much and when I look at them I see my husband.
Crying for him
He doesn't make me cry. In fact, I hardly get angry around him because he turns everything into joke. I have never had any reason to cry for him.
Proposal
You know he's not a romantic man even though I'm in love with him. I accepted him the way he was. And my family too welcomed him with open arms. He's a lovable person.
Living with his comic way of life
I am used to it as his wife. It's just that my kids are trying to live with the reality of his lifestyle.
When they see him on TV, they would start shouting 'Dad… Dad…Dad'. And when he comes home, the youngest would start pointing at the TV.
They are confused, trying to reconcile the dad they saw on TV and the real dad that is with them.
Comedy at home
Honestly, when he's back home, he's so tired that he would not be in a mood to make anybody laugh. He reads and when he's tired he goes to bed.
In his free time, he makes sure he spends time with his family.
Wedding night
It was our special moment and I want it to repeat itself over and over again.