Crime News
Naira Marley Accused Of Killing Mohbad – Outrage As Former Signee Loses Life To Voodoo Attack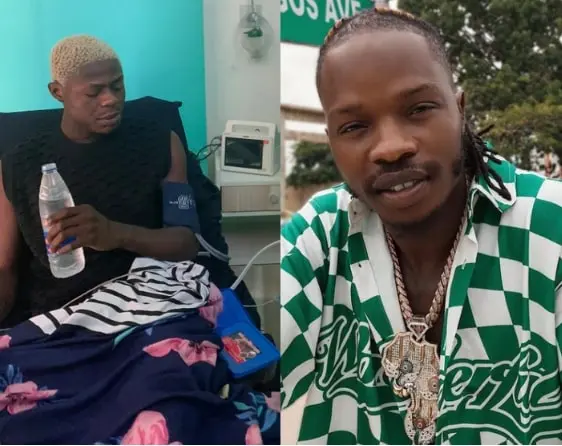 Naira Marley Accused Of Killing Mohbad – Outrage As Former Signee Loses Life To Voodoo Attack
In a development that has left fans and industry insiders in shock, the untimely demise of Ilerioluwa Oladimeji Aloba, commonly known as Mohbad, has taken a rather grim turn. The late rapper, who was once signed to Marlian Records under the stewardship of Naira Marley, was found dead on the 12th of September, 2023, leading to an eruption of disbelief and sorrow across social media platforms.
The enigmatic 27-year-old singer had previously hinted at threats to his life and altercations with Naira Marley and his team. Several months back, Mohbad had made a series of alarming statements on Twitter, suggesting that his life was in jeopardy and that he was assaulted by the crew after expressing his desire to have a change in managerial roles.
His posts on Twitter had drawn attention to his strained relationship with his then-record label boss, Naira Marley. At one point, Mohbad wrote, "I am not under the influence of alcohol or any substance, contrary to what Naira Marley has tried to imply. I have been diagnosed as an emergency hypertensive patient. My life is on the line and the threats haven't ceased."
Accompanying his tweets were hospital photographs of Mohbad, laid out on a bed with medical equipment surrounding him. The artist also reminisced about an incident dated February 24th, saying, "Look back to February this year. I was accused of being intoxicated when this happened. Just for the record, my producer and my friend who were with me were also assaulted."
The veil of sorrow that has befallen Mohbad's fan base has turned into an outpouring of rage aimed at Naira Marley. Social media comments under Naira Marley's posts are fraught with insinuations, accusations, and explicit claims that he is somehow involved in Mohbad's death.
User @Malikflaco angrily posted, "Naira Marley did this."
Another fan, @olumauowa2021, charged with emotion, wrote, "God will help me punish you."
Further stoking the embers of public sentiment, @wealthy_millions added, "You don kill Mohbad."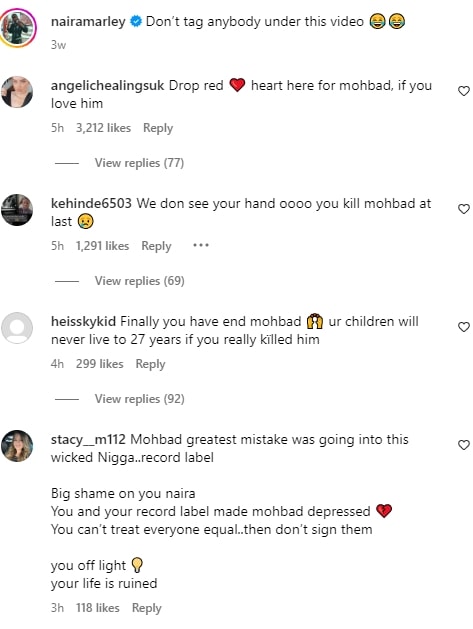 Even as allegations fly thick and fast, it is critical to note that no verified evidence is available to suggest Naira Marley's direct involvement in Mohbad's untimely passing. Yet, the prevailing atmosphere of tension, skepticism, and finger-pointing has cast a shadow over the late singer's career and legacy, prompting many to call for a thorough investigation into the circumstances that led to his tragic end.
In a music scene already fraught with rivalries, the latest incident has given rise to a plethora of questions that demand answers. Was Mohbad's prior claim of an attack and his hospitalization connected to his death? Is there a deeper level of enmity between him and Naira Marley than fans were aware of?
At this juncture, these questions remain unanswered, leaving a grieving music community to grapple with the realities of the fleeting nature of life and the darker facets of the entertainment industry. The story is still unfolding, and as we await official statements from concerned parties, one thing is certain: the tragic demise of Mohbad has left a void that will not easily be filled.
May his soul find eternal rest, even as the quest for the truth continues.