Nollywood
Fast Rising Nollywood Actresses: 8 Nigerian Actresses To Look Out For In 2019
Fast Rising Nollywood Actresses: Nigerian Actresses to Look Out for in 2019
2018 was a roundly successful year for the Nigerian movie industry. And a handful of actors and actresses caught their big break, while others cemented/elevated their status. In this article, we'll be looking at some of the fastest rising Nollywood actresses, who had a successful 2018, and will be hoping to extend the good fortunes to 2019.
Top Fast Rising Nollywood Actresses
Adesua Etomi
Since Adesua burst into the scene some two years ago, she has maintained a steady rise in the movie industry. She became famous after her starring role in the movie – Knocking On Heaven's Door. However, the movie that actually shot her to limelight is The Wedding Party (2016), where she starred alongside her hubby, Bankole Wellington – popularly called Banky W.
The elegant actress elevated her status as one of the fastest rising Nollywood stars in 2018, with a handful star features.
Some of her top movie features include King of Boys, Memoirs of 4, Date Night. and more. She took the lead role in most of these movies. And all things being equal, she is certainly one of the leading contenders for the "best actress" accolade later this year.
Linda Ejiofor
Linda Ejiofor surely had a year to remember in 2018, both at the professional and personal levels. She became a household name in the industry with her starring role in the ongoing movie series – Tinsel. And towards the end of the year, she crowned her professional success with a grander, personal, achievement.
She got married to fellow Nollywood movie star – Ibrahim Suleiman. And for some reasons, her wedding further enhanced her popularity, as well as that of her husband.
Notable movie features of Linda Ejiofor in 2018 include Memoirs of 4, Chief Daddy, Tinsel (Series), Rumour Has It (Series) and more. With a growing fan base, Linda Ejiofor is definitely one of actresses to look out for this year.
Belinda Effah
Belinda Effah is, without doubt, one of the top-rated stars of Nollywood today. And while she has been in the industry for close 15 years now, she is yet to break into the Nollywood A-Class setup.
In 2013, she won AMAA's Most Promising Act, and she hasn't been able to take it one step further to the "Best Actress" category. Could 2019 be her year? Time will tell!.
Belinda Effah starred in a handful of Nollywood movies in 2018. Some of these movies include: Purple Flame, Udemmemi, I Can Now Fall in Love and more.
Although she has been deposed of her status (as the fastest rising actress), 2019 is certainly another promising year for her. And the Nigerian movie fans would gladly be on the lookout.
Mary Lazarus
Mary Lazarus is one of the star actresses of new generation Nollywood. She started her career in showbiz since way back in 2002, when she left her corporate job to become a model. In 2009, she made her entry into Nollywood and went on to feature in a movie, titled Waiting Years (directed by John Njamah).
Mary Lazarus has made a slow, but steady, rise in the Nigerian movie scene, and she is, today, one of the most sought-ater actresses in the industry. So far in her decade old career, 2017 and 2018 have been her most successful years. All things bring equal, 2019 is expected to follow the trend.
Some of Lazarus' star features in 2018 include Drowning, Married in Hell, A Wildfire and more.
Zainab Balogun
Zainab Balogun has, within the space of 3/4 years, shot herself to the top of the Nigerian movie scene. She started her career in showbiz (as a model) as a 16-year old teenage girl, and she has enjoyed significant success in her chosen line of work.
The UK-born actress made her entry into Nollywood a few years back. Within this period, she has featured in a handful of top-grossing movies. Some of these movies include The Wedding Party (1 & 2), Royal Hibiscus Hotel, A Soldier's Story and more.
Her most recent star feature is, perhaps, her role in Sylvia, where she took up the role of the lead character named Sylvia. Other notable 2018 features of Zainab Balogun include Chief Daddy and God Calling.
The actress was recognized by Future Awards for a successful year in the Nigerian movie industry. And 2019 obviously shows more promise for her.
Rosy Meurer
This beautiful actress is arguably one of the fastest rising Nollywood actresses today. She made her big entry into Nollywood in 2014, in a movie series titled Oasis.
Her controversial lifestyle has further improved her popularity. Some time last year, she was accused of having an affair with Tonto Dikeh's ex-husband, Churchill Adekunle; a claim she strongly denied. This allegation actually did her more good than harm, as her fanbase grew significantly shortly after.
Some of the noteworthy 2018 movie features of the beautiful actress include The Game of Passion, Merry Men: The Real Yoruba Demons, The Shape of Love and more.
She is obviously one of the actreeees to look out for this year.
Regina Daniels
Popular "teenage" actress, Regina Daniels is one of the most prominent names in the Nigerian entertainment scene. The "sweet 16" actress is now a grown woman, and she now plays mature roles in movies.
She featured in some top movies in 2018, including Queen of Black River (1 & 2), Mermaid of Fire and many more. And to emphasize how influential she has become, she was recently appointed as a PDP Youth Ambassador, by the party's Presidential Candidate, Alhaji Atiku Abubakar.
With the election around the corner, she is expected to play a part, one way or other. And with a bit of luck on side, 2019 might just be her year!
Nsikan Isaac
The beautiful actress, although still relatively unknown, is quite popular among regular Nollywood movie viewers. She made her debut in 2009, in a movie titled Bloody Ring. However, her big break came a while later, as a result of her her production and starring role in The Banker.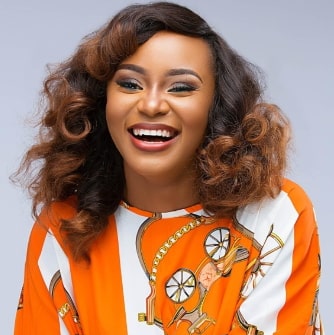 Her most recent star feature is a movie titled I Believe (2018), which was produced by Okey Ezugwu. The upcoming actress starred alongside the likes of Iyabo Ojo, Desmond Elliott, Uche Jombo and a host of other prominent names in Nollywood.
As a fast rising actress/producer, she is definitely going places.
Do you know a budding Nollywood actress not mentioned in this article, please include her information in the comment box below.