Obituary
2 Popular Nigerian Curators Die Of Cancer A Month Apart
Nigeria Loses 2 Curators To Cancer Within A Month…Okwui Enwezor Is Dead
About one month after the death of Nigeria's renowned independent curator and Founder Centre for Contemporary Art, Lagos, Ms Bisi Silva, Nigeria has lost yet another renowned curator Okwui Enwezor, 55. He died of cancer, which he has been battling for years.

According to Artnews, Enwezor, whose incisive, free-thinking and ambitious exhibitions were essential in pushing the art world to embrace a global view of contemporary art and art history.

Among the first to share news of his passing was the Venice Biennale, whose 56th edition he curated in 2015.
Enwezor was the first African-born curator to organize the Biennale, a show that began in 1895, and the first non-European to oversee Documenta, the every-five-years exhibition in Kassel, Germany, which he staged in 2002. That latter show, Documenta XI, defined his curatorial sensibility: venturesome, unabashedly intellectual, and intent on rethinking how institutions operate.
In the run-up to the opening of Documenta in June of 2002, Enwezor presented what he termed platforms—conferences, seminars, and other projects—in Berlin, Vienna, New Delhi, St. Lucia, and Lagos, Nigeria, and for the main exhibition he showcased artists from beyond Europe and the United States, which had historically dominated the affair.
Discussing his career with Melissa Chiu at the Asia Society in New York in 2014, he said,
"When I started, I always had what I thought was a change agenda." He worked tirelessly over the course of more than 30 years to fulfill that mission, shaping, indelibly, the way art is presented and taught.
"He was one of the leaders of, let's call it, the free curatorial world, one of the people who believed in intelligence and scholarly research and passion and the power of the curatorial," Carolyn Christov-Bakargiev, the director of the Castello di Rivoli in Turin, Italy, and curator of Documenta 13 in 2012, said by phone this morning.
Curator Cuauhtémoc Medina said on Twitter that Enwezor "was a major force of contemporary culture. His achievement as curator of some of the most important global exhibitions of the last decade punctuated the emergence of the South as a global cultural movement."
Enwezor was born in Calabar, Nigeria, in 1963, and grew up in Enugu. He moved to New York in 1982 and earned his undergraduate degree in political science from what is now New Jersey City University. He wrote and performed poetry, and like so many in that field, soon found his way into art criticism. In the early 1990s, he began curating shows regularly, and in 1994, while based in Brooklyn, he co-founded Nka: Journal of Contemporary African Art.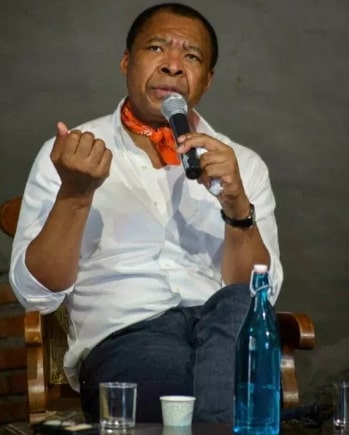 Asked about that name in an interview with the Vitra Design Museum, Enwezor said he was "searching for a term that projected an aesthetic horizon, but would also constitute a forum of ideological resistance." He explained that Nka, "in Igbo, the language I grew up with in Eastern Nigeria, means to create, to make, to invent. It also means art. Then in Basaa, a language in Cameroon, Nka means discourse. People oftentimes ask me, 'When was the first time you went to a museum?' As if a museum is the only space where one encounters art! Calling the magazine Nka was a way of disarming this particular notion."
In 1996, Enwezor organized "In/Sight: African Photographers, 1940 to the Present" at the Guggenheim Museum's location in the SoHo section of Manhattan, featuring 30 artists, including canonical figures like Seydou Keïta, of Mali, and Samuel Fosso, of Nigeria. Max Kozloff, writing in Artforum, said that the show "broke ground here, offering practically all its subjects a U.S. debut" and Holland Cotter, in the New York Times, termed it a "mandatory stop."