Nollywood
Nigerian Actor Alabi Yellow Becomes Evangelist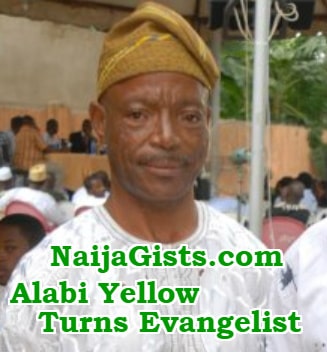 Nollywood Yoruba Actor Alabi Yellow Turns Evangelist "I'm An Honourary Celestial Church Of Christ Member"
Veteran Nollywood actor Samuel Akinpelu popularly called Alabi Yellow resumed his acting career after a long break in Mokaliki, a cultural movie shot by Kunle Afolayan few months ago.
Since then, the actor has featured in few other flicks.
In this chat with Joe Agbro Junior, Mr Yellow  talks about his career and the challenges Nollywood veterans are facing.
See interview excerpts below
When did you get into acting and how did it happen?

I started when I was in primary school at African Methodist School, Ikorodu. Then, I was in primary three. There is a biblical story about Job, and we acted that story on stage and I took the part of Satan that went to torment Job. The audience was large and vivacious. So, when I came out of the stage, people came and gave me money. Later, I joined my late master, Pa Oyin Adejobi in 1978. We did a lot of TV programmes.

I think we had two television stations then -WNTV/WNBS and NTA Channel 10 in Lagos. Before I left the place, we shot a few celluloid films, Aiye, from our late legend, Baba Ogunde (Hubert Ogunde). It was shot from 1979 to 1980. Then Baba Moses Olaiya comes in, Ade Love comes in, Ajani Ogun too. I left my master in 1981 to start my own theatre group. And since I have started the theatre group, I've made name. God has helped me to promote the talent. The passion is still there.

There was a time you were very popular in Yoruba films. How was that period?

The period was very okay because anything we did then was with passion. It's not that money but the interest, the passion was there. When people see you on television or hearing you on radio, people knew these people were special. They saw actors and actresses as special people because they educate people. They teach people what to do and what not to do. I did a programme for John Hopkins Population Communications in the US. It was a family planning programme and I did 13 episodes. It was a joint production with Ogun State Television. So they invited me. I've written a Yoruba literature book, A ba oko ku for pupils in JSS 1 to JSS 3. They use the book. It's in the syllabus.
What informed your writing a literature book?
That's what I'm saying about talent, and inspiration. If you're talented, God is there to clear the way for you. When you are from Professor Wole Soyinka, Baba Ogunde, Baba Adejobi, you have the basic talent.
Are you still in touch with many of the people you started acting with?
Yes, we see each other. It's only for now that things have already changed. Things are on a digital level now. And we're looking forward to what will happen tomorrow in terms of our film industry. More so, I think they still need support. And we old ones need more support because they can't forget us like that.
You're on the set of Kunle Afolayan's movie. How did it happen?
I see Kunle as a visionary. I just phoned him, "Kunle, how are you?" He said, "fine." I said, "I need a little help from you." He said, "What kind of help? I would do it for you." And after that help, he said "I need you, you old artistes. I need your encouragement. We don't have to leave you like that. We need you. Also, you're the ones that do a lot of things in our lives." So, he called me to his office and when I got to his office, we talked together. He has a vision about what he is doing. And he has the foresight. When you have a vision, you need to have a foresight.
So, what's your role in Mokalik?
My role is that of Argentina. Argentina is a mechanic assistant chairman that knows much about the mechanic work and he has so many apprentices under him, showing them what they should do and what they should not do. The storyline is fine, very, very educative.
Training as an apprentice mechanic is something that is gaining currency now in Nigeria. Beyond secondary school, did you get formal training in what you're doing now?
The whole world needs public enlightenment programme that can educate people on what they should do and what they should not do. It's only one person that God would send, 'Go and do this thing to my people and once you do it, when people grab it, they know this thing is the right thing." This film is a public enlightenment programme and many people would learn that there should be a vocational set-up in life. They shouldn't just abandon it at all.
How old are you now?
By next year, I would be 62.
And when you look at comedy and acting generally, with the training you had and what is happening now, how would you access the acting industry in Nigeria now?
I like comedy and I enjoy serious drama. When I was with my master, Baba Adejobi, I was trained with comedy and a serious drama.My master said when someone is watching you and for two minutes, five minutes, the people cannot enjoy you, the people cannot say anything about what you're doing, he says that person is a nuisance. He said whenever you go to the stage, people pick money from their pocket to come and watch you. Once you go to the stage, without even talking, they must laugh. And you should teach people moral education. He said moral education is very, very important and a public enlightenment thing. That was what my master told me. This film, Mokalik, I told you about the public enlightenment – it's good to have a vision of what you're going to do. And secondly, you should have a foresight. That is what I see in Kunle Afolayan.
When did you write the book?
That was 1988.
So, what do you these days because you don't act like before?
What I'm doing now is music. I'm doing something in the church because I'm a Celestial Church of Christ member, evangelising, moving from one church to another for people to listen to word of God. So, I'm an honorary evangelist now.
What moments do you really remember during your active acting days?
There are a lot of things. In 1985 in Ogun State when the people from the United States – John Hopkins, came, our programme was recorded, so they took the film to the editing room for preview. They were seven in number at the previewing studio. I came and saw the white men laughing. So, by the time they saw me, they were very much happy. We embraced, discussed. I think that moment in my life was something.