Nollywood
Nigerian Born Hollywood Actor Hakeem Kae Kazim Says Nollywood Lacks Diversity In Story Telling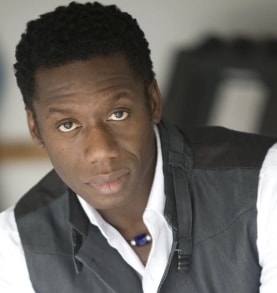 "Nollywood Lacks Diversity In Story Telling" -Hakeem Kae Kazim
In a recent chat with Premium Times, Nigerian born Hollywood actor Hakeem Kae Kazim talked at length on his professional plans for the future as he opened up on his take on Nollywood and Hollywood movie industries.
See excerpts:
We hear you currently star in three series on Netflix. What roles do you portray in each of them?
In Dynasty, I play Cecil the patriarch of the wealthy Colby clan. In Troy: Fall of a City, I play Zeus and in 24 Hours to Live, I portray the role of Amah.
You have enjoyed a steady rise in your career for going on two decades. What is the secret?
Acting is a difficult profession. When you're an actor, the competition is high but it is all about believing in what you do and having faith in your talents.
Quite a number of actors of African descent have broken into Hollywood big league lately. This is a far cry from when you began your career. What has changed?
Yes, it was not easy at all when I began to break into Hollywood. I think it's a gradual thing, people have been pushing and pushing for years and now Hollywood is changing. But, this 'inclusiveness' is not only exclusive to African actors. The reality is now that Hollywood is open to more diversity.
For instance, in the Dynasty series, a Nigerian-American actor called Sam Adegoke plays my son, Jeff Colby. When we found out they were both Nigerians, we decided to ask the writers if we could bring some of their Nigerian roots into the show.
Were you given the nod?
Yes they gave us the nod and we ended up speaking a bit of Yoruba. I don't know if it's the first time we have had a Yoruba family on national TV in America, but it was great fun to do and it was nice of the writers to let us do that, and to give a different feel to the idea of an African-American family. It was important to the actor to pass the message that, not every African-American family comes from a history of slavery.
The first time I spoke Yoruba on the show, the scene went viral. We should be thinking about how Nollywood can be the voice of the black race, we have the highest number of black masses. We must be prepared to be the storytellers of our own people and culture.
What is it like being black and playing major roles in Hollywood?
There isn't any special feeling attached to it. In Hollywood once you're black, you're black.
Are you quite conversant with Nollywood movies?
I am quite conversant with Nollywood. I recently saw a Nollywood film, Crazy People, which featured Chigul and Ramsey Nouah. I know people like Wale Ojo, Omotola Jalade-Ekeinde, Genevieve Nnaji and many others. I am also a huge fan of Kunle Afolayan.
Do you plan to produce films for the Nigerian audience here in Nigeria?
Most definitely. Part of what we hope to do is to organise a set of training so a lot of young people, get them used to how they act in Hollywood and South Africa.
I recently shot a comedy here in Nigeria and it had 99 per cent Nigerians as cast and crew. The first day was quite difficult but after that, people got into it. People wanted to learn and they learnt and we hope they take what they've learnt into the future production. At the end of the day, they were all pleased.
Can you tell us more about the project?
I can't say too much but it is a comedy. I starred in the series as well and I played the patriarch.
How did you arrive at the final cast?
We held an audition in Lagos. I was still in South Africa at the time but the audition tapes were sent and we decided whom to pick.
When are we going to see you star in a Nollywood series?
When someone comes up with a right script and a right 'temperament'. There is what I'm looking forward to doing in Jos so maybe it'll be the next one you'll see me star in terms of a Nollywood movie. But I'm really still looking for the right combination of script before I come back to a real big one.
How would you assess the growth of Nollywood in the last decade?
Well, after 10 years, Nollywood has done great in terms of technicalities and the awareness people are bringing into it. I think there's a lot of diversity in the story telling though there's still a long way to go.
What do you expect from that dream script?
I don't know yet but I will know one if I see it. There are lots of characters I can't wait to tackle, but I'm currently trying to put together my directorial debut.
It's an adaptation of a William Shakespeare play set in Nigeria and interpreted in Pidgin English. For the upcoming project, I am going to use all Nigerian cast and crew and it will be set in contemporary West Africa. I'm looking forward to doing it next year or so.
So that means we'll see more of you directing than acting?
It'll be a mixture of both, but the major idea is to come back and give back as much as I can and it will be a practice of what I have learnt in the overseas and directing is one of those things I'm really passionate about.
You've starred in many Hollywood movies but Hotel Rwanda remains a fan favourite. Is it right to say it gave you your big break?
Yes, it kind of did. It gave me room to fly. I met Hollywood actor, Donald Cheadle, while shooting "Hotel Rwanda.
I remember being on set with him and saying, 'oh, I would love to go to America one day.' And he goes, 'if you ever come to America, look me up.'
He gave me him a phone number and a year later, I was in Los Angeles and called him. I didn't know him as a person, but he was gracious enough to invite me to his house to talk to me about what it was going to be for me as a black man coming into America. He even saw my show reel. He was deeply gracious.
What are some of the challenges you encounter as a Hollywood actor?
Trying to get your next job; trying to get your next really good piece of job. That's sort of an everyday challenge. Getting that next piece that'll take you up the acting career ladder
Do you see yourself retiring anytime soon?
No, not at all.I cant afford to retire anyways.
What role are you dying to play?
I'll like to play the villain in James Bond, it'll be interesting and fantastic.