Crime News
Nigerian Boy Kidnapped In Toronto Canada Shammah Jolayemi Found In Brampton
Nigerian Boy Kidnapped In Toronto Canada..Shammah Jolayemi Found In Brampton
UPDATE:
The Nigerian teenager kidnapped in Toronto on Wednesday has been found safe.
Shammah Jolayemi was found in a barn in Brampton, a city few minutes away from Toronto where he was kidnapped.
The car his abductors used was also found burnt.
___________________________________________________________________________
A Nigerian boy who was kidnapped in Toronto on Wednesday is still missing.
According to police report,  14-year-old Shammah Jolayemi was kidnapped on Wednesday morning around Jane Street and Driftwood area of Toronto.
Witnesses said they heard him yelling for help before he was forced into a jeep which had over-sized front tires and a front push bar with fog lights.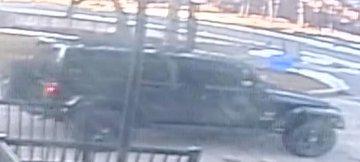 A person of interest is his stepbrother, Olalekan Osikoya and two men between 18 and 22 years old who were seeing wearing black jackets and bandannas.
The missing boy is said to be 6 feet tall with a slim build.
He was wearing a grey hoodie, grey pants with orange stripe and a shiny puffy coat with black and yellow Air Jordan shoes when he was kidnapped.
An amber alert was issued shortly after midnight.
Police are extremely worried for his safety.