Crime News
Nigerian Currency Smugglers Arrested By EFCC In Abuja With N37 Million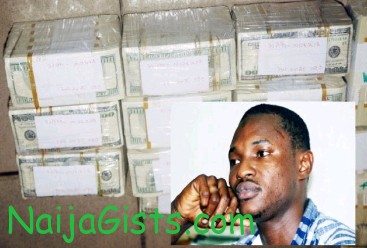 Previous suspect
Nov 9, 2012 – Nigerian Currency Smugglers Arrested By EFCC In Abuja With N37 Million
EFCC (Economic and Financial Crimes Commission), on Thursday, said it has arrested two suspects over an attempt to smuggle more than $238,858 out of the country through the Nnamdi Azikiwe International Airport (NAIA), Abuja.
Acting Head, Media and Publicity, EFCC, Mr Wilson Uwujaren, in a statement to newsmen, identified the suspects as Abdulrasheed Ibrahim and Hyginus Ezedimbu, adding that the duo were currently being investigated for money laundering by the commission.
According to Uwujaren, Ibrahim was arrested on Wednesday, November 7 as he attempted to board a Dubai, the United Arab Emirates bound Ethiopian Airline, while Ezedimbu was arrested on the November 3 at the same airport.
Ibrahim, he said, was found with the total sum of $188,858, while he had only declared a sum of $45,000 to its personnel, but a further search on him revealed the additional $143, 858.
He added that he was discovered to be carrying 40 British Pounds and 5753 grammes of solid gold, worth N34, 518,000.
Ezedimbu, he said, was apprehended when he attempted to board an Ethiopian Airline on his way to China.
He was allegedly caught with $50,000, but he declared $49,971 and was reportedly unable explain the ownership of the sum found on him, and was unable to produce the receipt with, which he purportedly purchased the forex from a Bureau De Change.
He stated that one Musa Adamu an operator of Majia Bureau de Change, Abuja, who allegedly sold the currency to Ezedimbu has been questioned just as the suspect has been release on administrative bail, pending the conclusion of investigation.
He said that the arrest of the duo came on the heels of similar arrests at two of the nation's other major gateway, the Murtala Mohammed International Airport , Lagos and the Mallam Aminu Kano Airport , Kano.
Abubakar Tijani Sheriff, who has since been convicted by a Federal High Court in Lagos, he said was arrested on September 27, 2012 at the Murtala Mohammed International Airport en route Dubai , United Arab Emirates for attempting to smuggle $7m out of the country.
When he was arrested, he declared that he had only $4.5m on him, but thorough search showed that he was actually carrying $7,049,444.
He stated further, "Two days after Sheriff's arrest, the anti-graft agency similarly apprehended one Nkem Sebastian for attempting to smuggle $286,000 out of the country. He was arrested as he prepared to board a plane for Dubai, the United Emirates en route China. When the money was discovered, Sebastian disclosed that he had only $200,000 on him. But a search revealed that he was actually carrying $286,000.
"On Sunday, September 30, 2012 operatives of the Commission arrested one Alhaji Tasiu Ilu Kura, a businessman with $700,000 at the Mallam Aminu Kano International Airport, Kano. The suspect who hails from Kura Local Government in Kano State, was arrested en route Dubai, United Arab Emirates."
He emphasised that under-declaring cash at entry and exit points in the country are criminal offence and the person making the declaration risk losing 25 per cent of the money not declared or a two year jail term; or both.(Tribunereport)