Crime News
Nigerian Drug Dealers Arrested By NDLEA At Lagos Airport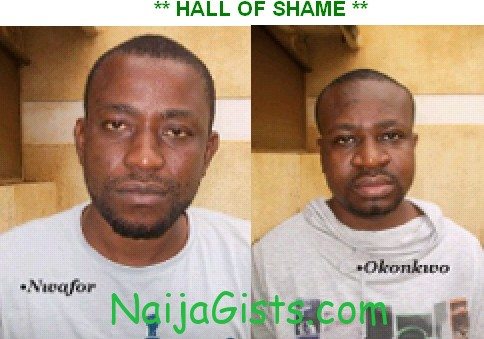 Dec 8, 2012 – Nigerian Drug Dealers Arrested By NDLEA At Lagos Airport
Two suspects, Ugochukwu Nwafor and Chidozie Okonkwo were recently arrested by law enforcement agents at the Murtala Muhammed International Airport in Lagos for attempting to smuggle 2.880 kg of a substance believed to be cocaine out of the country.
During the outward screening of the passengers on a British Airways flight to London, Nwafor and Okonkwo were found to have ingested 175 wraps of the hard drug.
Confirming the arrest, the commander of the National Drug Law Emnforcement Agency at the MMI airport, Mr. Hamza Umar, said the suspects were caught after a positive signal was triggered by the scanning machines.
"The suspects tested positive to drug ingestion and were placed under observation. Nwafor ingested 73 wraps of cocaine weighing 1.395kg while Okonkwo ingested 102 wraps weighing 1.485kg. They were detected on the same flight," Hamza said.
A dealer in phones at the Computer Village, in Ikeja, Nwafor,37, resides at Igando while Okonkwo lives in East London. Having confessed their involvement, both of them are said to be cooperating with narcotic investigators.
"I used to be a successful businessman until I made a wrong investment three years ago in which I lost over N3.5m in China. As a result of the loss, I became indebted and was lured into drug trafficking by a friend," Nwafor told CRIME DIGEST.
Okonkwo claimed to have obtained a Master's degree in Innovative Management from the British Institute of Technology and E-Commerce in London. He said, "I was only trying to make ends meet. I live in East London where I had my post-graduate studies but joblessness turned me into another man. It was a tough decision for me to smuggle drugs but I really needed the £5000 I was offered. I feel bad that things have turned this way for me. It is like a dream" (Source: Punch)