Crime News
How Nigerian Force Feeding Custom Landed 73 Year Old Nanny In Jail As Baby In Her Care Chocked To Death
Nigerian Grandma, Nanny Oluremi Adeleye Jailed For Forcing Feeding Baby & Chocking Him To Death
Nigerian Killer Custom Force Feeding Custom Landed 73 Year Old Nanny In Jail As Baby She Force-Fed Chocked To Death
Madam Oluremi Adeleye, a 73-year-old Nigerian nanny in the United States, was recently  jailed for 15 years for murder. Her story would melt not a few souls.
It is a grim example of how love can prompt duty, duty prompt tradition, tradition leads to death, albeit unintended; and death paves the way to jail — to jail after 70!.

Enita Salubi, the baby in the care of Nanny Adeleye wouldn't feed. To avoid her starving, the nanny cottoned onto the popular traditional practice among Nigerian mothers — force-feeding the child. Unfortunately, poor Enita, with some eight ounces of milk down the throat of the baby and her nose tightly closed, the eight-month old choked to death!.

Though the nanny's lawyers explained babies' force-feeding was common practice in Nigeria, that the baby died was a notorious fact that couldn't be wished away.
"While I don't find the defendant is an evil-intentioned baby slayer," Judge Karen Mason told the court before pronouncing the sentence, "I also don't find her actions were accidental."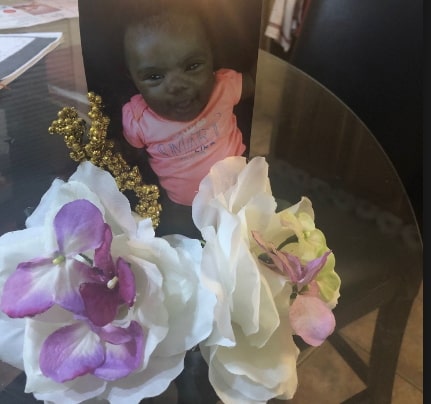 The judge said it all. The action — force-feeding — was certainly not accidental, even if the resultant death was unfortunately so. Indeed, given a changed cultural milieu, like Nigeria for instance, it would have passed as a logical resort to a time and tested baby feeding formula.
The only exception, of course, is that death is not expected to occur from such improvising; for the mother or nanny or guardian, would have been expected to fully master the art, before applying it. That doesn't however mean the death of an infant, even if it is from a honest mistake, could have been less severely punished.
This indeed, is a chain of tragedies. The eight-month old infant bid life bye-bye, when she had but the whole of her new life stretching in front of her, throwing her mother into indescribable grief.
"I didn't want to lose my child to a stray bullet …" pained mum, Nikia Porter volunteered, explaining she quit her former South Side of Chicago neighbourhood to escape gun violence, which could put her family in danger, but "I lost her to a formula." Sad!
But no less sad too is the fate of Madam Adeleye, who suddenly realised she could be spending all of her last days in jail, when she should be coasting home in the comfort and warmth of family and friends.
And the agony and pains, of her own offspring, extended family and even friends — is it describable too? To spend probably the last of your days in a foreign jail! Agonising!.
But her fate also brings attention to the situation at home. If things were better here, would a 73-year-old national, without any specific skill, be moonlighting on a nanny's job, when she should have been drinking palm wine and telling her grandchildren the famous African moonlight stories?.

That points attention to the imperative to fix our country. But that won't be done by people just pointing fingers and trading blames. Only clinical and creative thinking and a joint resolve by all can turn the tide.

Still, you just must feel for the tragic pair: Baby Enita and Nanny Adeleye!.