Crime News
Nigerian Girl Jamila Umar Disfigured As Doctors Put Intravenous IV Injection Through Her Head In Kaduna
Nigerian Girl Jamila Umar Disfigured As Doctors Put Intravenous IV Injection On Her Scalp Vein In Kaduna..Please Donate To Save Her Life
This is Jamila, i met her yesterday at Unguwan Shanu, Kaduna. She is 5 years old. Her case started 2 years ago when she was having convulsions, her parents took her to Nursing home hospital where she was to be treated, they couldn't find a vein on her hand to inject her so they search for it on her head and that was how it started eating her head up. It has been 2 years now and it's still eating her up, she has already lost an ear and it has affected her mouth too, she can't eat any solid food only watery and with straw.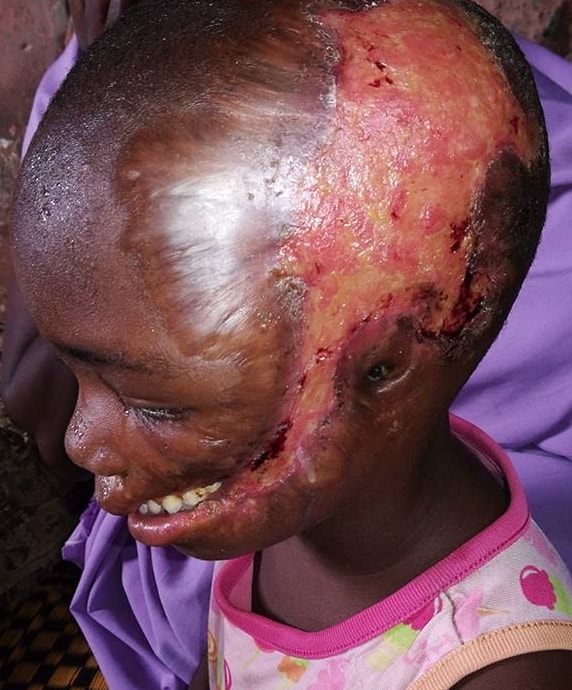 It has started to affect her left eye now and i pray it doesn't turn into cancer for her. Her parents are very poor trying to survive and have what to eat. Her mum told me that doctors has recommended taking her to ABU teaching hospital Shika for proper surgery, she has no idea how much the operation will cost but she know it is something they cannot afford.
I suggest they should get the total cost but in the mean time please kindly donate and help save a life, no amount is small please and please. They have an account opened in the little girls name for donations so please anyone that want to donate here is the account : Jamila Umar Diamond Bank 0083429957.
For those in Kaduna who will like to meet her for verification kindly contact regalbeautycare at 234 807 474 9790.