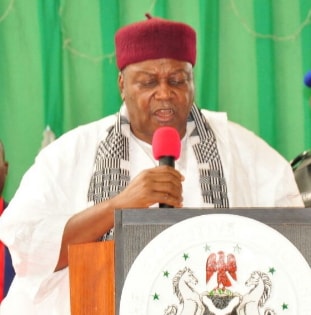 The Governor of Taraba State Darius Dickson Ishaku, today solicited support from the youths for his second term bid. He asked them to re-elect him in next year's poll, promising he would make them millionaires.
He spoke during his third year anniversary and Democracy Day celebration held at the Jolly Nyame stadium Jalingo.
"I want you (the youth) to go out during the election and re-elect us. I will empower you to be millionaires; you will be exporting milk and meat; you will be driving Mercedes Benz, instead of Keke NAPEP," he said.
Governor Ishaku, who said his administration has done well in the last three years, assured Taraba people he will fulfill all his campaign promises in the remaining year.
He said, apart from tourism, he has achieved tremendously in all other sectors, including agriculture, education, health and infrastructure, adding that the Nigerian Medical Association gave him award because of the hospital he built in Wukari and the ongoing reconstruction of the hospitals in Bambur and Gembu.
He noted there was no remarkable achievement in the state's tourism sector, despite having the most potential, because of insecurity in the country and the fact that the Mambilla Hydroelectric Dam project has not been completed.
"Some Germans came to invest in tourism in the State, on getting to the mountain in Gembu, they were crazy. But upon hearing news of attacks and killings, they all left," he said, and added: "if you had given me more peace, the developments would have been more."