Crime News
Nigerian Killer Faces 4 years Jail Term, Human Rights Lawyers Outraged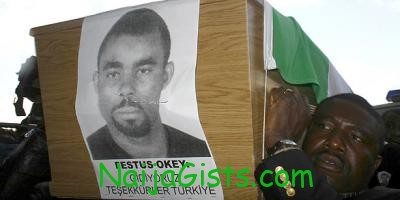 Dec 14, 2011 – Nigerian Killer Faces 4 years Jail Term, Human Rights Lawyers Outraged
Human rights lawyers were outraged when a Turkish court sentenced a police officer, who had shot a Nigerian man, Festus Okey to death in 2007, to four years, two months in prison on charges of involuntary manslaughter, arguing he should have been convicted of voluntary manslaughter.
The Istanbul 21st High Criminal Court handed down a majority ruling on Tuesday in the conclusion of a four-year trial of the policeman for the murder of Festus Okey. The court established that Okey had been shot dead by officer Cengiz Yildiz while in custody at the Beyoglu police station in Istanbul on Aug. 20, 2007. Yildiz had stated in his testimony that he had no intention of shooting Okey in the melee that ensued after Okey made an attempt to take his gun.
"I am really saddened by the fact that Okey lost his life. I did not have any intention of shooting him. I was just trying to do my job," stated Yildiz.
The officer relayed that he and other officers (meant OK) had taken Okey and his friend into custody at the Beyoglu Police Department on suspicion of drug dealing. "At the Beyoglu police station, we searched Okey and his friend for drugs and seized a certain amount of cocaine from Okey's underwear. When I turned to hand the package of cocaine to my fellow officer, Okey tried to grab my gun," Yildiz described. Stating that he pulled the trigger by mistake, Yildiz reiterated that he had had no intention to shoot Okey.
"First of all, the police officer was not held in jail during the investigation. His fellow police officers and the chief of police were not held accountable for anything in relation to this case, either," said lawyer Ömer Kavili, speaking on behalf of the Istanbul Bar Association.
"The investigation was not done thoroughly, and even though the case had been brought to court as voluntary manslaughter, the judges interpreted the murder as involuntary manslaughter, which carries a lower sentence," he said. "Did they do that because the [murdered] man had no relatives or friends? A man, whose color was black and who had been abandoned, was sent away from this world with the help of the state."
If Yildiz had been handed a sentence for voluntary manslaughter, it would have been at least 20 years, he added.
Erdal Dogan, another lawyer who had applied to represent the co-plaintiff but whose services had been refused, said, "Justice was not served."
"The police officer [on trial] arrived at the first hearing of the case in the car belonging to the chief of police," he said.
A number of human rights organizations — including the Immigration Solidarity Network, the Istanbul and Ankara Bar Associations, the Contemporary Lawyers Association, the Human Rights Association (IHD), the Helsinki Citizens Assembly  and the Association for Solidarity with Refugees (Mülteci-Der) — have voiced concern over the murder trial. Dozens of people had wanted to take part in Okey's hearings, but a prosecutor filed an order against 70 of them on the grounds that they were trying to influence the judicial process.
Dogan said that other police officers who have been negligent in the carrying out of their duties should be investigated for the possible commission of crimes, including losing or hiding evidence.
The Council of Forensic Medicine (ATK) indicated that Okey had not been shot at close range, but Okey's shirt, which would have been useful in verifying this finding, was not given to the ATK. (source)