Crime News
Nigerian Military Kills 24 ISWAP Fighters At IED Training Camp In Lake Chad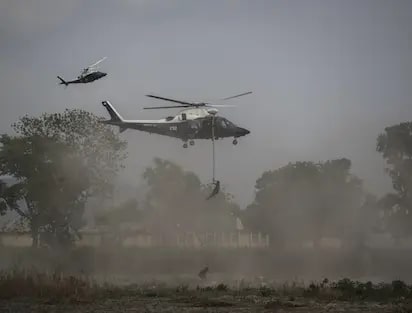 Nigerian Military Kills 24 ISWAP Fighters At IED Training Camp In Lake Chad
NAF, The Nigerian Air Force has silenced at least 24 fighters of the Islamic State of West African Province (ISWAP) being trained on how to produce Improvised Explosive Devices (IED).
The onslaught attack was carried out by fighter jets on Sunday at Tumbun Hamma, one of the identified locations for ISWAP training camps in Lake Chad.
A defence intelligence source told PRNigeria that the terrorists had undergone weapon handling and IED production training at the location for six consecutive days before they were neutralised on Sunday.
Similarly, it was gathered that a NAF aircraft under the Air Component of Operation Hadin Kai also carried out a series of air strikes on terrorists' locations in the Tumbun near Lake Chad.
A military source said that the strikes were part of retaliatory air strikes on terrorists after their attempted attack on a Nigerian Army location in Mallam Fatori.
The source added that intelligence had revealed that terrorists were infiltrating Mallam Fatori from Tumbun Fulani. According to PRNigeria, the terrorists had four gun trucks, and several support weapons, among others.
"Hence the need for an air interdiction mission to degrade and disrupt their activities. Accordingly, the strikes on Tumbun Fulani led to the destruction of three of the gun trucks hidden under trees with several terrorists scampering towards six boats on the shores of Lake Chad eliminated as well, thereby degrading their ability to attack own forces," the military source said.