Hot Gists
Nigerian King Becomes First Black Person To Buy 2014 Bentley In The World (Oba Akinruntan Of Ugboland)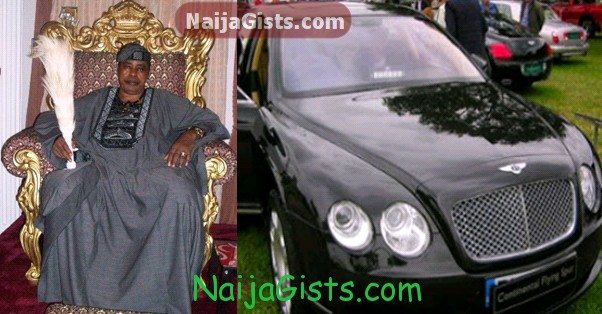 Jan 16, 2013 – Nigerian King Becomes First Black Person To Buy 2014 Bentley Car In The World (Obateru Akinruntan, Olugbo Of Ugboland In Ondo State)
Billionaire oil magnate and Chairman, OBAT Oil and Gas, Oba Fredrick Enitolorunda Akinrutan has made history as the first black person to ever acquire a 2014 Bentley car in the world. naijagists.com
The wealthy Nigerian monarch who hailed from Ondo state has made history for being the first black man to acquire the customized 2014 model Bentley.
Oba Akinruntan, the traditional ruler of Ugboland in Ondo State is the owner of Obat Oil and Gas company.
Oba Fredrick Obateru Akinruntan acquired the 2014 customized Bentley with the customised plate # Olugbo few weeks ago.
The brand new wonder on wheel arrived Nigeria last week.
The wealthy oil mogul has a fleet of cars which include a customized Rolls Royce 2012 model and five private jets.
What a bling bling King.