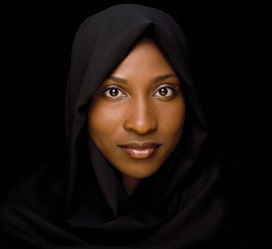 Muslim Girl Sues Father For Banning Her From Marrying Ijaw Christian Boyfriend In Kaduna
A young Muslim lady  identified as Amina Hassan, has sued her dad, Alhaji Adamu Hassan for banning her from marrying her Christian boyfriend.
Amina, 20 met her suitor Christopher from the Niger Delta region last year and recently introduced him to her father who rejected the relationship.
She immediately hired a lawyer to help convince her father.
Amina and her lawyer Barrister Ado Ali appeared before a Sharia Court at Magajin Gari area of Kaduna state yesterday where her lawyer begged the court to serve as her guardian in order to allow her wedding to hold.
In his objection, Alhaji Hassan through his lawyer said the only issue he has with Christopher is that he has no regard for him.
The girl's counsel, however, prayed the court to grant the two parties two weeks to sort things out and reach an agreement.
In his ruling the Judge Lawal Dahiru said Alhaji Hassan has every right to assess his daughter's suitors but has no right to force anyone on her.
He thereafter adjourned the case till the 29th of October for hearing.