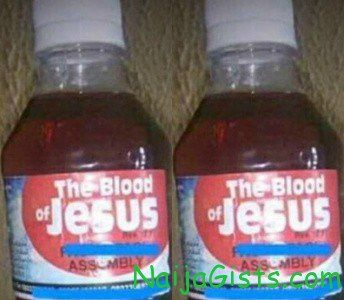 October 12, 2017 – Nigerian Pastor Sells Holy Communion Wine Named Blood Of Jesus To Church Members For 2000 Naira In Awka Ibom State
A mixed communion drink labeled 'Blood Of Jesus' is currently on sale at a church, Faith Assemly in Akwa Ibom state.
According to a church member, the drink pictured above is going for 2000 Naira only.
The smart Pastor knows that naming it 'The Blood of Jesus' will make it sell fast.
He is also aware of the fact that Nigerians and Christians in general believe the Blood of Jesus is a powerful weapon against witches and wizards and for healing all forms of diseases.
It looks like diluted zobo drink..LOL.
Chai!!! Naija Pastors Diaris God ooo.