True Life Stories
Alleged Child Witch Idongesit Okon And A Society That Has Lost Its Soul!
Alleged Child Witch Idongesit Okon And A Society That Has Lost Its Soul!
To an avid follower of events happening in Nigeria, it would by now be pretty obvious that although majority of Nigerians feign deep religiosity, we are in fact an extremely spiritually and morally bankrupt people.
Nothing confirms this fact better than the story of 13-year-old Idongesit Okon Iko, a boy from the town of Unyenge in Mbo Local Government Area of Akwa Ibom State.
Recall that Akwa Ibom is not far from Calabar where over 100 years ago, Scottish missionary Mary Slessor stopped the killing of twins, whose births were considered by the natives for many years at that time as an evil curse.
Is this why today, cruelty to children can be easily stomached by indigenes of the State?
Akwa Ibom is an oil rich yet poverty stricken State where child abuse has taken on a new dimension. Although, indigenes used to worship various deities through their ancestors, today, Christianity is fused with a traditional local belief system so that there is an upsurge in the number of prophets and pastors, some of them founders, others pastors of churches which are local franchises of big denominations, who believe that proving their spirituality depend on the number of kids below 15, that they are able to denounce as witches.
In conjunction with communities and local militias comprising mainly youths, children are declared witches, rounded up, tortured, abandoned, maimed and even killed. For years, the Child Rights and rehabilitation Network CRARN have been calling attention to this issue, I have personally written a number of articles, did videos and even written a complete book (although yet unpublished) on the subject, yet the situation continues unabated.
The stigmatization of children as witches and resultant child rights abuse is particularly prevalent in southern Nigeria, and has been recognized as a major barrier to the effective implementation of child rights laws across southern States.
Just yesterday, a team of Eket based charity CRARN, was dispatched to rescue an almost lifeless boy in Oron community.
We gathered that Idongesit Okon Iko had been accused of witchcraft, tortured and abandoned. After being left for dead, his only life line was the sign post of the First bank branch in Oron community which he desperately clung to for days.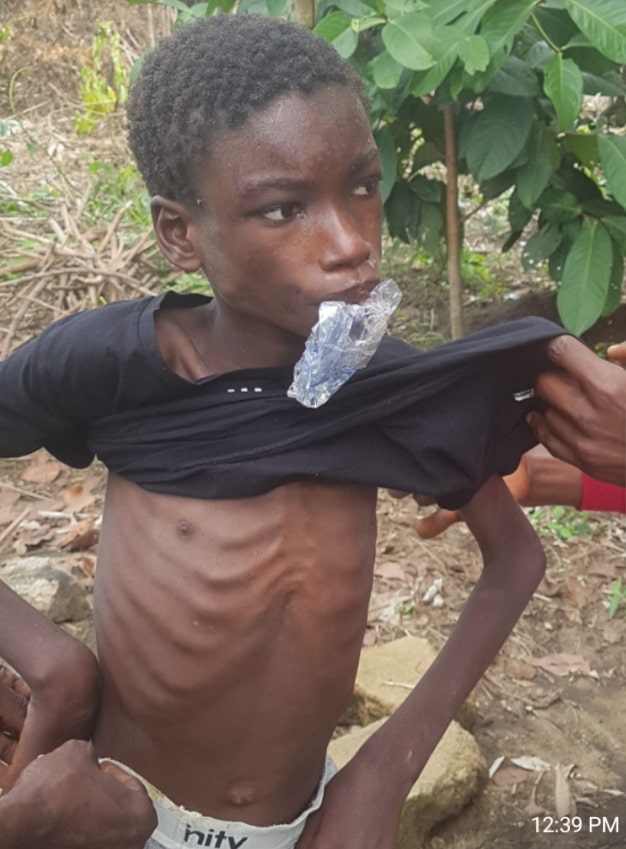 Eye witnesses told CRARN that he had been lying there at the premises of the First bank branch for two weeks, without food or water, with a dislocated leg and had been defecating and vomiting blood, with injuries and scars from his brutal torture, all of which was visible, even from a distance. He was so traumatized that he was just nodding his head in response to questions from the CRARN team. A man who claimed to know him said the boy was never dumb until his ordeal.
Pleas from the CRARN team for the man to volunteer information that could lead to the where about of the boy's parent fell on deaf ears. It was a long time CRARN donor and supporter, one Mrs Imoh Essien who found him lying in that near death state about 45 KMs from the CRARN office in Eket that gave the call that led to his rescue. As I type, he is at the Immanuel General Hospital, Eket, where he's currently receiving treatment under the name "John Doe" for security reasons and the doctor's insistence. We are told he will be undergoing his first blood transfusion today 30th March, 2021, and CRARN is asking for support to enable us cater to his health.
I think the question we must all answer is, how have we become a society so soulless, despite the countless number of churches and mosques within our shores, so that we can brutalize a 13-year-old and leave him for dead in front of a major bank with no single show of concern?
First Bank of Nigeria Limited is a Nigerian multinational financial services company that prides itself with words like "At First Bank, supporting the communities in which we live and work is our key Corporate Responsibility and Sustainability (CR&S) strategic pillar". So, how did an organization with such a lofty CR&S statement allow a boy to lie lifeless in its premises for weeks without any of its staff asking a question?
For those who insist on committing crimes like these in the name of Christ, the Holy Bible is replete with examples of how Jesus Christ and his followers treated children and how he said to treat them. But sadly, rather than follow these examples, we have seen entire communities, in a depressing frenzy, in this 21st Century, setting up churches for economic reasons and spreading wickedness and ignorance, in his name.
As sad as this is, it is perhaps unfair to place all the blame for this epidemic of child witchcraft allegations on Pentecostal churches alone.
The revered Mike Bamiloye's Mount Zion Film Ministry, most of Nollywood and the Lady Apostle Helen Ukpabio's Liberty Gospel Church film production company and many more, also share blame directly or indirectly, for stoking the fire of superstition in this country. In fact, you only need to watch Nollywood movies today and immediately notice how they have blurred the line between fact and fiction despite their unique advantage as a platform for Nigerians to tell our stories.
The fallout is the gross superstitions that fuel the sorts of abuse we are witnessing today despite the works of a handful Nigerian charity organizations like CRARN.
How do we help Nigerian kids thrive? How can we amplify their voices and call attention to their suffering? And what does the Holy Bible and maybe the Koran have to say about children?
We know that we can never care about children as much as God cares about them and we are told in Sunday schools that Jesus is with children everywhere, in every situation, working to show them his love, so how come kids, not just in Nigeria, all across the world, are put through horrifying wickedness as the case of Idongesit Okon and many more kids like him, by those who claim to be God's mouthpiece here on earth?
For example, since 1999, over 15,000 kids below the age of 15 have been accused of witchcraft by "pastors" and "prophets" and have thereafter either been abandoned, tortured, maimed or even killed by their own family members, across Southern Nigeria alone. It is all the more saddening that instances of such acute injustice and dehumanization occur with the aid of the said prophets to whom huge sums of money are usually paid as 'exorcism' or 'deliverance' fees.
In the book of Mark 10:13-16 we read "People were bringing little children to Jesus for him to place his hands on them, but the disciples rebuked them. When Jesus saw this, he was indignant. He said to them, "Let the little children come to me, and do not hinder them, for the kingdom of God belongs to such as these. Truly I tell you, anyone who will not receive the kingdom of God like a little child will never enter it." And he took the children in his arms, placed his hands on them and blessed them." How can anyone read this and still have the mind to brand a child a witch, real or imagined?
Yet we continue to see kids driven from home, in fact, CRARN documented a case where over 40 kids were rounded up and summarily wasted in one day. Today, we see lots of skolombo, a term for street children, living in dumpsite like Lemna on the outskirts of Calabar. A 2010 survey found that in one region of Akwa Ibom state alone, 85 percent of the kids are skolombo who have been accused of witchcraft.
Even babies have been branded and chained up, starved, beaten, and even set on fire. Cases of parents attempting to behead their children with saws have also been reported and kids have had nails driven into their heads, forced to drink cement, scarred by acid, poisoned, and even buried alive and so on and accusers typically use witchcraft as a means of scapegoating vulnerable children for acts ranging from unruly behaviour and absenteeism from school to a failed harvest or family misfortunes.
A UNICEF report notes that it is typically vulnerable children with physical disabilities or illnesses such as epilepsy who are targeted. Others are branded for appearing withdrawn, lazy, unruly or even "smarter than their age".
Nigeria's criminal code prohibits accusing, or even threatening to accuse, someone of being a witch. And the Child Rights Act of 2003 makes it an offence to subject any child to physical or emotional torture, or submit them to any inhuman or degrading treatment…
Are we going to keep acting as if all is well, like a society that has lost its soul?
Albert Afeso Akanbi is a writer, documentary filmmaker and humanitarian. He writes from Abuja, FCT, Nigeria.