Crime News
Nigerian Police Officers Fighting Over Bribe Money In Abuja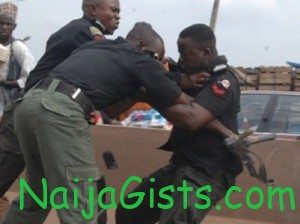 Scene from previous fight
Dec 20, 2012 – Nigerian Police Officers Spotted Fighting Over Bribe Money In Abuja
It was a Theatre of absurd at the Ademola Adetokumbo area of Wuse 2, Abuja on Thursday when two Traffic Police Officers on duty were engaged in a serious brawl, scaring motorists, as many were forced to make a U-Turn in order to avoid having their wheel screen smashed by the two angry police officers.
The Officers who were simply identified as Mr. Ishaku, a police Constable and Mr. Ewema Pesters were on duty in a busy junction located immediately after City Park with other Traffic Police Officers where they got engaged in a heavy fight.
The officers who were determined to kill each other were seen hitting themselves with sticks and stones, while their fellow police officers stood afar to watch what our reporter had termed "Bizarre Theatre."
The fight, which lasted for over 30 minutes, attracted some mobile police officers to the scene, who were able to bring it to a temporary halt, even as the duo continued to hit each other intermittently in the pool of their own blood.
The mobile Police officer who was at the scene had expressed his anger over the wild attitude of the two Policemen, and immediately called the Zone 3 Police station, asking for more policemen at the scene of the incident in order to pick up the two officers.
Despite the questions from our correspondents and others within the area on what could have led to such shameful fight, the two officers remained mummed, but continued to attack each other while the mobile Policeman remained in their midst, holding firm unto their torn uniforms.
However, one of the officers at the scene of the incident had squealed that the officers who were on morning duty had earlier disagreed over the sharing of money made from traffic defaulters after they had closed from work. This, he said led to intense argument, that eventually led to the fight.
Before our correspondent left the scene, the two men had been taken away by some officers mobilized to the scene of the fight. [source]
See yeye people!