Crime News
Desperate Nigerian Rapper Kills Self After Blaming God For Career Stagnancy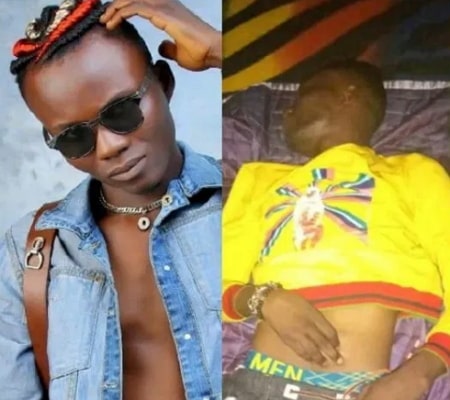 Upcoming Nigerian Rapper Olanrewaju Pelepele Commits Suicide In Ikorodu Lagos Over Career Failure
Family members of upcoming Nigerian rapper, Olanrewaju Pelepele have been thrown into mourning.

On Friday, September 20, Pelepele committed suicide by drinking 'Sniper', an insecticide, at his apartment in Ikorodu. His neighbours later found his lifeless body and contacted the police.
"So a close friend committed suicide this morning in Ikorodu, we've been waiting for @PoliceNG since morning to come for his body! Olanrewaju Pelepele RIP," Debbie Mackanaki posted on Twitter.
The deceased has been posting series of emotional messages and video on the internet with the #mylastmoment to narrate his disgusts for this life. At exactly 10:46am, on September 11, the rapper explained that despite his 10 years of hard work in the music industry, he has failed to make it to the mainstream. According to him, this has made him sad. He then promised to commit suicide.
"Its 6days now, if by 12:00am tomorrow, God doesn't take my life, I will kill myself," Pelepele said in the viral video.
He continued;
"10 years ago, I told God to grant my fasting and prayer so that I can be successful as a musician. I told Him to take my life, if I didn't blow after putting my energy. Here, I am today. God is just unjust and I'm not sorry to say," he had written.
The Eshu crooner, further, said that depression is an understatement as he did feel like he belonged to this world anymore.
"I don't feel any belonging to this world again because I feel tormented by life. Three years after my 10 years dead with God, Olamide saw the talents in me and signed me to his YBNL Nation record which is like a free ticket to success but everything just crashed. Why e go be me now, wetin I do from the beginning. I got depressed with everything and I don't think there's a reason for me to stay in this world.

"Tomorrow will make it 7days of #mylastmoment note and I have already gotten this (he showed a sniper) to kill myself. God bless you all," he said.
Many people thought he was pulling a stunt until his lifeless body video surfaced online. He posted a picture where he was wearing a black shirt and face cap as he held his neck tight with his hands. He also did a free style to say goodbye to the world before taking his life.