Nigerian Wedding Styles And Dress Ideas: What To Wear To A Nigerian Wedding
Weddings are a glamorous and spectacular weekly affair in Nigeria. These occasions attract massive crowds of not just friends, family and well wishers, but also uninvited guests, attention seekers, spectators and critiques that are present solely for the purpose of taking notes of things which went wrong and other things which could have been done better.
By and large, Nigerian weddings are entertaining and enjoyable affairs. It is a sure place to come across the beautiful and unique fashion and style of the Nigerian people.
What To Wear To A Nigerian Wedding
Dresses to wear to a Nigerian wedding can sometimes be a testy decision to make. You have several things to put into consideration before coming up with an outfit. You have to consider the color (does it match the stated colors of the ceremony), kind of dress (is it up to standard and decent enough), and finally the style, you should definitely not wear the type of dress that steals the attention away from the bride.
If you are not dressed up in any of the multiple uniforms (Asoebi) for the wedding ceremony and have chosen something else, you can either go western or the traditional style.
If you have selected the western styles then you have the options of a variety of formal and informal dresses and gowns, jumpsuits etc. These outfits are best worn in the selected colors of the wedding or at the very least in colors closely resembling them. You should try as much as possible to stay away from white just to be safe, you don't want to end up looking like the bride at some else's wedding.
The option of traditional attires is what most Nigerians prefer to wear to weddings; probably because of the beautiful and unique designs of Nigerian fabrics. Traditional attires can be manipulated to suit the taste and unique style of any individual and are also readily available at very affordable prices.
You should definitely avoid dressing down for any Nigerian wedding. Stay away from casual and shabby dresses or you end up being the odd one out at the ceremony, nobody wants that.
Black colored dresses are also a no go area except it is one of the couple's wedding colors which is hardly likely.
Nigerian weddings are bright and colorful affairs; black is not a befitting color for such an occasion. Finally, by all means try to appear as decent as possible, elegant and classy is the look you should go for.
Overly short and indecent dresses will only earn you disapproving looks and snide remarks from guests especially the elderly crowd in attendance.
Naija Wedding Practices
Certain practices are an unspoken tradition when it comes to Nigerian weddings. Many Nigerian wedding traditions are similar to wedding practices around the world but a select few are peculiar to Nigerians.
Three Weddings
A typical Nigerian couple is technically married at least times within the space of days or sometimes weeks. The couple first heads to the marriage registry to be married according to the law, and then they follow it up with the traditional wedding and finally the religious wedding. The traditional and religious ceremonies may take place on the same day, and in some cases weeks apart. But these two ceremonies always have receptions and celebrations attached to it.
Nigerian Wedding Color Codes
It's no news that Nigerians are crazy about colors even more so when it comes to weddings. You encounter several daring and bold color combinations at Nigerian weddings. Every wedding in Nigeria is color coded. There are selected colors for every Nigerian wedding you attend; sometimes as many as five, two colors at the very least. Some colors I dare say have to be properly researched by invited guests as the colors were unheard of prior to the delivery of the wedding invitation. There is no Naija wedding without colors of the day.
Nigerian Wedding Aso Ebi
Nigerian weddings are incomplete without uniforms otherwise known as Asoebi.
Various groups of guests in attendance are clothed in with a variety of uniforms, from the friends of the bride, to the family members, parents of the couple and several others; Nigerians love Asoebi.
Blissful Absence Of A Guest List
Placements of guests and a detailed list of expected guests are not even in the picture at Nigerian weddings. A few spots are reserved for a few important guests in attendance order than that; invited guests are free to take which ever seat they please. Feeding and seating arrangements are made based on the estimated number of guests expected. Nigerians love parties and celebrations so preparations are made to cater to as many people as possible.
Couples Dance And Money Spraying At Nigerian Weddings
Nigerian weddings are alive with music and celebration. It is almost impossible to resist the fun beats of Nigerian music. You encounter different kinds of dancing skill at weddings; there is never a boring moment. At some point during the ceremony, the couple opens the floor with their dance.
No slow dancing business, the couple digs it on the dance floor while friends and relatives come forward to join in and shower the couple with money.
For a few reasons the spraying of money on married couples is presently being discouraged and guests are being enjoined to package the money and give it to the couple instead.
Nigerian Traditional Wedding Styles
Wedding outfits of tribes in Nigeria are definitely as many as the tribes. Nigerian tribes differ in popularity in the same way some wedding attires are more popular than others. However, these less common tribes are also rich in their wedding cultures and traditions. Some well known wedding garbs worn in Nigeria are as follows.
Igbo Wedding Outfit
The Igbo bridal attire is that of a skirt/ wrapper and a fitting blouse. The blouse and the skirt/wrapper are seldom of the same color. The combination of these colors still creates a perfect blend to the attire as these colors are always well suited for each other. The wrapper most times comes in the form of two layers one is tied shorter than the other.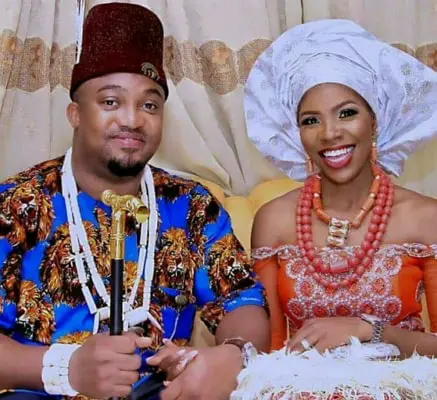 The bride's material is adorned with a lot of needlework ornaments. A head tie is used or a crown of beads depending on the brides tastes. She is finally made-up and accessorized with a variety of jewelries.
The wedding appearance of the Igbo groom is a trouser and shirt. The shirt typically goes half way down; it traditionally stops at the knees or slightly above. He enhances his look with the Igbo traditional cap, a necklace made out of coral beads and lastly a walking stick.
Yoruba Traditional Wedding Outfit
This tribe is rich in traditional attire from various types and qualities of laces to the tie and dye fabrics (Adire), the Ankara materials and many more. The materials used for the attires of a Yoruba couple are a combination of bright and lively colors.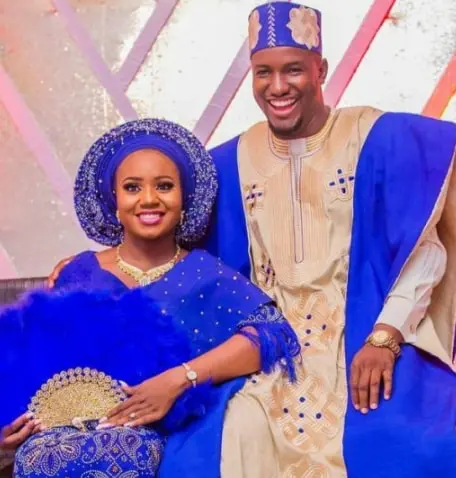 The Yoruba are famous for the traditional Aso-oke and expensive laces during their traditional wedding ceremonies. People constantly attempt to outdo each other in fashion and style at these celebrations.
The bride and groom sometimes dress up in quality laces or Aso-oke; sometimes both outfits are worn. The bridal attire is composed of a head tie (gele), a blouse (buba), a wrapper (iro) and a shoulder sash (ipele). The outfit is harmonized with jewelries and accessories as well. The couple most often wears matching outfits.
he groom is clothed in a shirt, a pair of trousers and an overall which the Yoruba refer to as the Agbada and finally a Yoruba cap (fila).
Ijaw Traditional Wedding Outfits
In this tribe, a bride is clothed in expensive materials which could take the form of a gown, skirt/wrapper and blouse. High quality coral beads accessorize her attire: coral head pieces, necklaces, earrings etc.
The ijaw groom is typically attired in a very loose fitted long sleeve shirt which is paired with a large wrapper rather than trousers. The outfit is completed with a bowler hat and a fancy walking stick.
Hausa Traditional Wedding Outfits
The bride is clothed in dresses of high quality and adorned in beautiful accessories. The wedding dress could be sown in form of a skirt and blouse or a gown. Whichever style the bride decides on is acceptable, the only watch word she is bound to adhere to is decency. The dress should in no way permit bodily exposure. Temporary flowery tattoos are also drawn on the hands and feet of the bride; a head tie as well as a shawl are a part of her apparel.
The Hausa groom puts on a long caftan for his upper body garbs, a pair of trousers for the lower and an overall otherwise known as the Babban Riga. His attire is completed with the traditional Hausa cap (fula).
Obviously a lot of thought and effort is put into selecting the perfect traditional wedding attire in Nigeria. All Nigerian tribes have their various traditional wedding attires each unique and different. Some may appear similar to each other but when diligently observed several variations can be noted and their unique cultures can be seen and appreciated.