Crime News
Nigerians Deported From Abroad In 2013: 65 Deportees Arrive Lagos From London, UK, Spain & Italy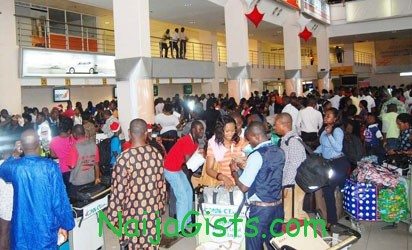 Jan 25, 2013 – Nigerians Deported From Abroad In 2013: 65 Deportees Arrive Lagos From London, UK, Spain & Italy
At least 65 Nigerians were deported from London, the United Kingdom, Spain and Italy Friday.
We learnt that some were deported because they overstayed while others had problems with immigration authorities of the countries from where they were deported.
Some of the deportees were seen at NAHCO section of the Murtala Muhammed International Airport, Ikeja.
Some of the deportees said they have been in the UK for between six and 25 years. But others refused to talk to P.M.NEWS about their ordeal.
An organisation called Migration Rehabilitation Awareness Initiative run by Vivian Otubanjo was on ground to assist the deportees.
Otubanjo said she has been assisting them to locate their families, offer them temporary shelters, legal advice among others. Meanwhile, Mr. Lawal Isah, the Head of Immigration at the Nigerian High Commission in London, confirmed this in an interview with the Western Europe Correspondent of the News Agency of Nigeria (NAN).
He said that among those repatriated were people who had served jail terms in various prisons across the UK, and others arrested for illegal stay.
He said the repatriation was a monthly exercise through a chartered return flight jointly organised by the High Commission and the UK Government.
In December, 2012, 40 people were also deported.
Reacting to the development, Mr. Abba Moro, the Minister of Interior said the Immigration Service in Nigeria had been stopping those without proper documentation from travelling out of the country.
"In 2012, 1,687 Nigerians without proper documentation were prevented from travelling out of the country.
"However, some succeeded in escaping," Moro said.
The minister is on a facility monitoring visit in London.
He said that Nigeria had signed a Memorandum of Understanding (MOU) with Austria, Slovakia and Germany to facilitate the return of those without legal rights to stay in those countries.
"The essence of the MOU is to add some level of dignity to the way returnees are sent home so that they are not forced into detention. These countries have further earmarked some funds for resettlement of repatriated Nigerians. On our own part, we have proposal to complement these funds, so that returnees can be properly integrated back to society," Moro said.
NAN reports that a similar migration partnership is in place between Nigeria and Switzerland.
[NAN/PM Reports]