Nollywood
Nigerian Actress Turned Sex Educator Seyi Hunter Promises To Help Rehabilitate Rapists, Sex Offenders & Pedophiles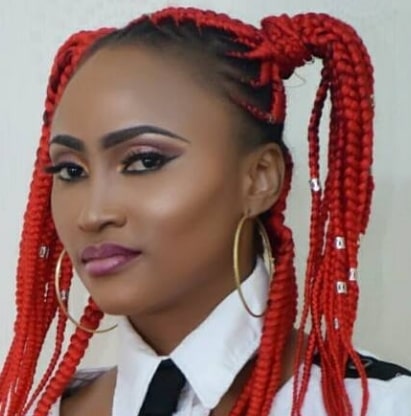 Nollywood Actress Turned Sex Educator Seyi Hunter Promises To Help Rehabilitate  Rapists, Sex Offenders & Pedophiles
By Rotimi Agbana, Pot Pourri
Call Nollywood actress Seyi Hunter, the 'Sex goddess', and you would be most correct because she has proved beyond doubts her passion for helping others achieve sexual bliss.

Little wonder the CEO of Hunters Media and Miss Bikini Nigeria International recently announced the return of her sex vlog, 'Seyi Hunter Uncensored: Sinful Fridays', an online platform dedicated to dishing out practical lessons on how to achieve sexual satisfaction.
In a chat with Potpourri, Seyi explained why she decided to put 'Sinful Fridays' on hold for sometime.
"I took sometime off to rebrand, seek more knowledge and upgrade myself. I took professional courses in Sex Education and Human Sexuality. So I can confidently say anywhere that I'm a certified Sex Educator", she said. Speaking on what to expect now that she is back, she said; "I'm unveiling fresh episodes of my Vlog which I call 'Sinfulfriday reloaded'.
I'll be serving my fans fresh and raw episodes every Friday. I'll be introducing demonstrations too. Any topic I talk about that needs demonstration, I'll do it myself, just to show them the proper way to do it. The contents are more daring and 100% raw. Its 2019, nothing is going to hold me back from giving my fans the best of me. I'm starting a sex therapy and counselling session to help people with sexual issues and I'm presently taking a course on sex offenders.
By the time I'm done with that I'm going to start an online/whatsapp support group for sex offenders, paedophiles, child molesters, and rapists. Some of these people want to stop but don't know how to; while the paedophiles need someone to help them so they don't become child molesters. All sex offenders need help.
Once they're done doing their time. They'll need rehabilitation so I'll be here waiting to help."
Confirming Potpourri's suspicion, she admitted that floating a sex vlog has greatly affected her family members, friends and fans perception of her.
"Of cause my sex Vlog has changed lots of people's perception about me. Lots of people think for me to come out and talk about sex confidently and in details means I must be very spoilt; you know Nigerians like to pretend. They condemn you publicly but in private they praise you. My family memers are my biggest fans; especially my mother. She supports everything I do, prays for and encourages me. Few friends I have are also big fans.

My fans are the reason I took a step further to get education on this. Their love and support is overwhelming. A fan actually paid my tuition fee. I started sex toys and lingerie business "SEDUCSION", which a fan in London encouraged and practically pushed me to start. So I have the best fan base, people who actually want the best for me."
[Interview Culled from Vanguard NGR]