Nollywood
Adediwura Adesegha Opens 2019 Talking About Boobs In The Wake Of Moral Bankruptcy Among Entertainers
Nollywood Actress Adediwura Adesegha Opens 2019 Talking About Boobs In The Wake Of Moral Bankruptcy Among Entertainers
Controversial actress Adediwura Adesegha popularly called Adediwura Blarkgold has expressed her feeling concerning her big boobs, saying she can't imagine what life would have been like if she had not been blessed with big boobs.

Posting a picture of herself in her teenage years, where she appears almost flat-chested and comparing it to her busty self, the dark-skinned mother of one thanked God for having big boobs and wonder how she came about the big boobs considering she was almost flat-chested in her adolescent years.
Referring to the picture of herself as a teenager, she said,
"How I got big breast still baffles me till date. Ha Oba mi onise Ara, anu nla ni mo ri gba o ( it is a great gift from you God). What would I have done with small boobs? God, the great enhancer. Don't lose hope, God can still do yours."
The pictures she posted was of herself in 2001 compared to the one taken in 2018. The difference in her bosom was remarkable.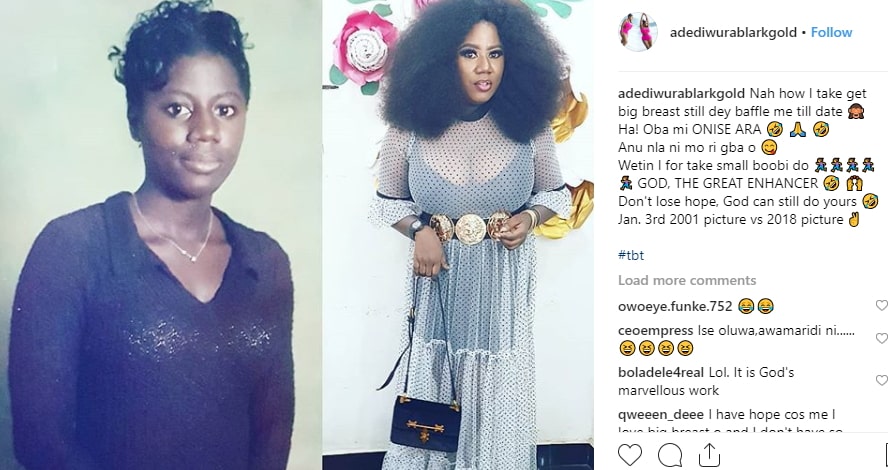 Adediwura once admitted in an Interview with Vanguard that she sees her breast as her selling point and wouldn't hesitate to flaunt them. But when asked if she considers herself as one of the most endowed women in Nollywood, her reply was as epic as it sounded.

"I will put myself in category C or may be category B. I have people who are in the category A like Ronke Oshodi Oke and Foluke daramola," she said.
Lord have mercy!!!. What a way to start the new year.
No wonder Prof Bakare Oke blamed entertainers for moral decadence among Nigerians.