Nollywood
Nollywood Stars Who Own Mansions: Nigerian Actors, Actresses And Their Houses [PHOTOS]
Susan Peters
Nollywood Stars And Their Mansions: Nigerian Actors & Actresses And Their Houses [PHOTOS]
When it cones to luxury and good life, Nollywood stars 'no dey carry last'. They are always looking for new ways to enrich what they already have. It is little wonder therefore that most of them invest in real estate which would equally yield more.
From houses to cars to clothes and accessories and even food, they always try to look their best. One would not blame them much, owing to the nature of their jobs, fame and personality.
We now bring you a compendium of Nollywood stars who own gorgeous mansions and are proud of it:
Richard Mofe-Damijo: This veteran actor has everything to be thankful for. He has a lovely wife, children and grand children, fleet of cars and of course, a mansion. This mansion is estimated to be at a whooping #500,000,000.
According to the ace actor, the mansion is a family home and is strictly dedicated to his wife and children. The actor showed his artistic inclinations by the colours, furniture, state of the art decors.
Jim Iyke: Controversial Nollywood actor, Jim Iyke has acquired a mansion which is put at over #150,000,000. He got this 'baby' in Abuja and has since moved from Lagos. The house is tastefully furnished to fit his befitting status.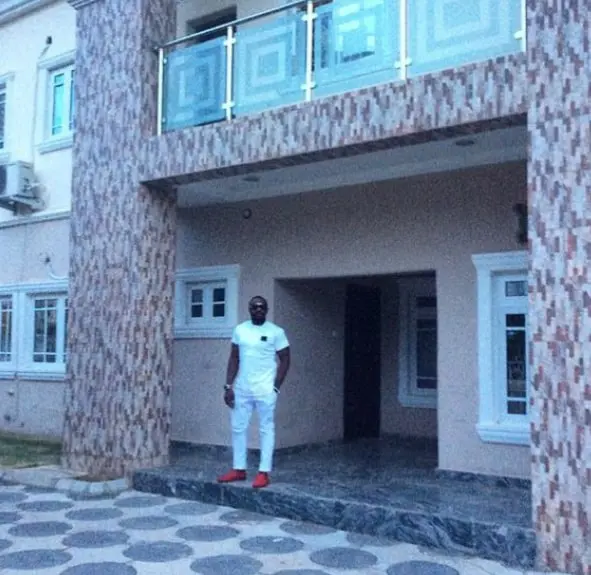 According to him, he feels he needed to have a feel of hone, away from the noise and bustle of the world and this is exactly what this mansion offers.
Mercy Aigbe: This actress has only proven that hard work truly pays. She just recently joined the list of stars who own a mansion. She bought her house in one of the choicest areas of Lagos. The house was estimated to be #200,000,000.
The single mother of two said it was a prophecy given to her by a friend on her birthday. She did not believe it but later, it came true. She shared the pictures on her Instagram page showing her outside the edifice. Although she has not shared the interior of the house with us, we have no doubt it is going to be a perfection.
Kanayo O. Kanayo: He may be the oldest on our list but he sure does have class. In 2017,he completed and dedicated his mansion in his home town, Aboh-Mbaise in IMO state and launched it.
The event was graced by top shots in Nollywood and other entertainers plus the former governor of Anambra State, Peter Obi.
Genevieve Nnaji: This delectable actress would surely make the list. Aside acting, she once modeled for Lux plus other endorsements and of course, her own clothing line, St. Genevieve.
In recent times, she  acquired a palacial mansion in Park View Estate, Ikoyi. The house was put at a sum of #220,000,000. Apart from this one, she also has one at Abuja and Ghana. The one in Abuja is a 4-bedroom duplex with all the basic amenities and a centralized power generator. It also has servants' quarters and a court for games. It cost her almost #30,000,000.
If you think we are done, wait for the one in Accra. This one cost her a staggering $4,000,000. According to reports, it is heavily guarded by not just securities but by a security company. According to the actress, this particular house is special to her because she sees it as a get away with her family when she wants to relax and ease off.
Ini Edo: This A list actress is definitely worth all the fame and worth she has amassed. The house which is located at a quiet place in Lekki is was estimated to be worth #70,000,000. In 2014, it was recently renovated to suit her taste and style. Recall that this house was the bone of contention between Ini and her ex husband. It was after she refused to sign his name as a co-owner to the house, a threat which she refuted hotly. Seeing that she would not budge, he packed up and went to live with a lady he was alleged to be already dating in Ghana.
Ini was unperturbed and has continued to enjoy all the comfort and luxury her beautiful house comes with.
Yul Edochie: He is the last son of a veteran actor, Pete Edochie. He is one of the most sought after actors in Nollywood. Not too long ago, he moved into his duplex in Lekki. The house was put to be in the millions. It has a posh interior and even a cinema.
According to him, he would leave the decoration, paint, furniture and everything else to his wife's discretion.
Oge Okoye: This actress who has been off the movie screen for quite sometime. This does not mean we have seen the last of her. She is also on our list of mansion owners after she recently completed the edifice. The actress who is noted for always doing things herself was said to have  personally supervised the building.
She was always seen on site despite her tight schedule to ensure that all went well. And finally it did, standing tall in the serene atmosphere of Lekki. The property was put to be in the tune of #100,00,00.
Ramsey Nouah : Nollywood's golden boy, Ramsey Nouah is a lover of cars and has also shown that he has an exquisite taste when it comes to houses. This was seen in a picture he shared on social media which showed the latest artifacts, decoration and paintings in his massive house. His garden is a sight to behold and provides  shaded areas for relaxation.
Funke Akindele: We wrap up our list with the trendy Funke Akindele's house. It is a 7-bedroom mansion located in the serene area of Amen Estate, Lagos. Apart from this, it has a study, 5 lounge areas, 7 bathrooms and 4 terraces for her gorgeous cars.
The kitchen is a wonder. It has granite worktops and the best kitchen appliances. And just in case you need a steam bath, there is a Jacuzzi right in the house!.