Hot Gists
Nollywood Yoruba Actress Yinka Adebanjo Finds Love Months After Death Of Husband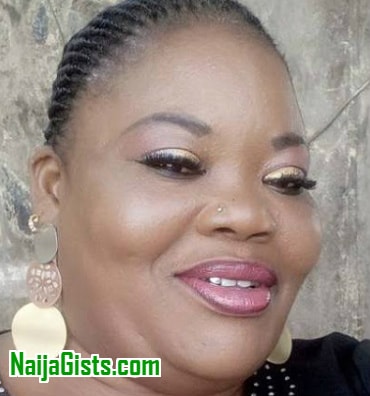 See excerpts of Nollywood actress Adeyinka Adebanjo aka Say Mama's recent chat with City People Reporter Gbolahan Adetayo.
How did you get into acting?
I joined the industry years back when I gained admission for my form 1 in 1981; form 1 is what is now known as secondary school. The likes of Olaiya Igwe and co do come to my school for stage play and that was how I joined them. I followed them to perform stage plays in several places but professionally, I started in 1982.
How did it happen?
It was a big problem. Apart from the fact that I picked interest in it, my mum wasn't making things easier for me neither my boss because she never wanted me to be acting. So if I want to go, I have to dodge myself at the corner waiting for my mum to get busy before I will go.
Why was she not in support of you to become an actor?
I wouldn't know but I think she believed that actresses are not reliable; she wanted me to be educated and there was no way I could combine the 2 together. More so, each time I am going, I do pack some food items at home to our meeting place, and she was like what is my gain in this profession, so I shouldn't do it, she convinced me a lot and arrested Olaiya Igwe with police severally, alas, I still insisted in acting.
How many times did she arrest Olaiya with the police?
Like 3 times. Though, he was not kept behind the bar but he was told to write undertaken and after that, I will go again and he will send me back home but when I pleaded before him, he will free me again. At the end of the day, my mum concurred.
After being arrested by the police, what made Olaiya to still be welcoming you to his group?
I guess it was because he saw the spirit in me. I was the last small girl among them; and sometimes they will put me on top of their location vehicle to advertise to people the stage drama we about to show at the village which my mum dislike. I started with stage play before home video later came in.
You've been in the system for over 3 decades now, but you didn't get the fame until recently, why?
What I can say about that is that, I was acting and at the same time schooling before I later had my only child, but my mum was insisting that I should further my education. She took me out of Abeokuta to Lagos so that I can pay attention to education. I have destined to become an actress. At least, I managed to have my OND in Mass Communication at the Moshood Abiola Polytechnic, Abeokuta.
Why didn't you work with that?
I think if you are into acting, you will find it difficult to do any other corporate job with it because you have to dedicate your time for one out of the two; otherwise you will end up achieving nothing. For example, if I have an interview with someone in the afternoon as a journalist and my producer is calling me at the location to come and act and I can't divide myself into 2, how do I achieve that? The 2 profession are already contradicting.
After school, what were you doing?
I travelled to Saudi to trade for about 5 years. I was there selling cloths, pants, bras and all that.
How did you now come back into acting?
While I was doing the business over there, I saw one of my colleagues known as Sir Kay who advised me to go back into acting and then I have decided to come back home because of my mum who was complaining that I should return home, that was how I returned to Nigeria.
You usually play reprobate roles in acting, what prompted that?
I can't really tell you why because producers and directors decides on who to play a particular role, if you are good and they believe that you can do better than others of course you will be called for the role. As an actor, you must be good to play any role even if you don't know it, you have to be very smart because that is your chosen career and you must not toy with it. I was born and brought up in Ajegunle Lagos and that is why you see me playing the role of "Mama Isale" god mother or someone selling herbal mixture. I do see a lot of people in the neighbourhood and I know how they deal with their customers and that was what influenced my role in movies.
Are you married?
No but I had a 26 years old son who breathe his last recently. After I finished from secondary school, I got impregnated and I had the baby. The only problem we have as an actress is that people don't take us serious; they believe that we don't have time for our husbands or the entire family and that is why they don't marry us. Even the ones who have been married sometimes don't enjoy the marriage because many men can't endure it. Leaving your home to spend a week at a movie location is like something else to some men, if the man endures, his family will never be quiet about it. it is a few of us that their husband's family understands the nature of our job and that is why I always prove some people wrong, erase the mindset that if we go to location, we go there to fornicate. We all have what we are looking ahead us which are beyond acting. As I am now, some people will say my wear is not decent enough, see tattoo on her body and they will start arbitrating. For cry loud, I am a celebrity and I can place tattoo in any part of my body, but the man's family will not understand.
But why are you still single at over 40 years of age?
I have someone I am dating but we are not living together, he is not even in Nigeria, he comes home twice in 3 months.