Crime News
Pastor Jailed For Having Affair With A Pregnant Sheep In Ghana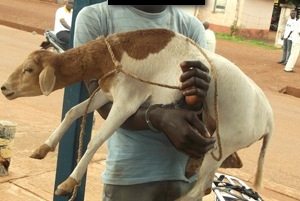 Feb 16, 2012 – Crazy Pastor Caught Having Affair With A Pregnant Sheep In Ghana
A self-proclaimed evangelist was caught red-handed having illicit affair with a pregnant sheep in Abesim near Sunyani in the Brong Ahafo Region, Ghana . naijagists.com
The weird news spread like wildfire and attracted a huge crowd that thronged the Abesim police station to catch a glimpse of the pastor and his sheep 'wife'.
According to the police, Pastor Gordon Yeboah confessed at the station to having sexual intercourse with the animal, claiming that when he saw the sheep, he experienced an unusual feeling within him, prompting him to have sex with the animal.
Pastor Yeboah, 20, a father of a seven-month-old baby, who claims to be the leader of the Holy Spirit Ministry Fellowship church based at Yeboakrom near Abesim, was caught in the act, bonking the poor pregnant sheep at a village called Ampehia near Nkrankrom in the Abesim area on Thursday evening.
The very loud bleating of the sheep as a result of the possible excruciating pains it was suffering in the abnormal act did not bother the 'man of God' who was bent on unleashing his libido on the animal, until he was finally caught in the act.
The police said on Friday that about 7.00am, two men, Kwadwo Yeboah and Thomas Kumi, both residents of Asikasu village nearNkrankrom, came to the station with Pastor Gordon Yeboah and a female pregnant sheep.
According to the police, Kwadwo Yeboah reported that he saw the pastor having sexual intercourse with the sheep at Ampehia village when he was returning from his farm on Thursday evening around 5.00pm.
The farmer told the police in his statement that he saw the pastor half-naked as he raised the two hind legs of the pregnant sheep, inserted his manhood into the sex organ of the animal and had sexual intercourse with it. The farmer said he initially thought the pastor was attempting to steal the sheep which was tied to a tree behind the house, but after observing what was unfolding, he realised that the pastor was actually having sex with the animal.
He said he went straight to the pastor who was then carried away and tapped him on the back, whereupon the pastor became aware that somebody had been watching him.
According to the farmer, Pastor Yeboah knelt down and begged him not to disclose what he had seen to anybody and that he (Pastor Yeboah) would give him anything he wanted. He said just as the pastor was pleading with him, the owner of the sheep, Thomas Kumi, appeared on the scene and he narrated the whole episode to him while the pastor was still half-naked. The two took the pastor to the chief of Asikasu, Opanin Agya Birii, who said the act was abominable on the land and therefore directed them to send both the pastor and sheep to the police station.
God please have mercy on us o !