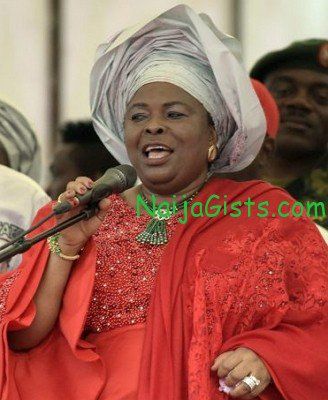 October 12, 2017 – Patience Jonathan Allegedly Used Late Mother's Bank Account & Name To Launder N2.11Billion – EFCC Makes New Discoveries
The EFCC has uncovered a whopping N2.11billion kept in an account of Magel Resort Limited, a company registered in the name of her late mother, Mama Charity Oba.
According to the EFCC, the total amount of proceed of corruption traced to Mama P is now 17 billion Naira.
Investigation revealed that at least N17bn, including funds from some government agencies, were paid into the accounts of Mrs. Jonathan's NGOs.
Here is a what a security source said about the new discovery:
 "Another company owned by Mrs Jonathan is Magel Resort Ltd. It was incorporated by Mrs. Jonathan's late mother. But Patience Jonathan became the sole signatory to the account of the company by board resolution upon the demise of her mother.

"The total sum allegedly laundered through the account of Magel Resort Limited, owned by Mrs Jonathan and her late mother, is put at N2.114bn."
The commission alleged that another NGO, owned by Patience, Ariwabai Aruera Reach Out Foundation, had various accounts but the principal account was domiciled at Diamond Bank.
The EFCC said it stumbled on evidence in which several government agencies made payments into the account.
A total inflow of N2.4bn was allegedly recorded in the account between 2009 and 2015.
The commission alleged that some of the NGOs had Patience's domestic servants as directors.
The report adds, "Investigations equally discovered that Mrs. Jonathan maintains a dollar account with Diamond Bank which received huge financial inflow from her domestic aides.

"Some of the domestic aides that made payments into the accounts are also trustees of her so-called NGO and director in her companies. The balance in the account was $12,831,173."