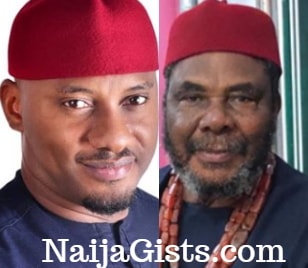 The son of veteran actor Pete Edochie , Yul Edochie who recently bagged a political appointment in Anambra in this chat with Saturday Beats revealed that his dad did not like the idea of him going into politics.  He also revealed what he did to make the veteran actor give him his blessings.
His words:
"My father does not like politics. He did not really like the idea of me venturing into politics but I made him realise that if we are all shying away from politics, who is going to save this country? So he just had to give me his support because everybody has been shying away from politics for too long and that is why Nigeria is the way it is. I would say that he is supporting me all the way".
On his baritone voice getting compliments from fans, especially female fans, the actor said:
 "I hear that a lot of people love my voice but honestly, I do not really know what I sound like".