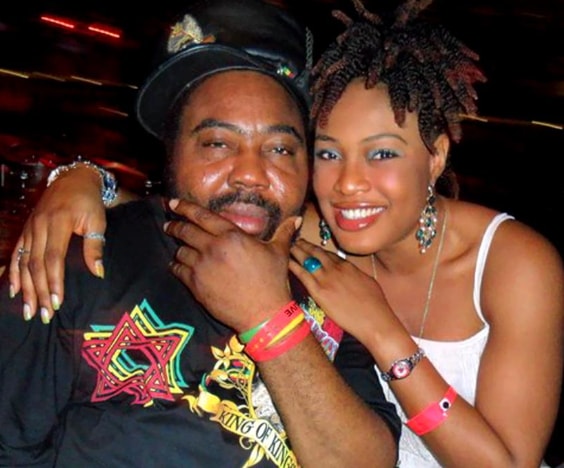 '
Ras Kimono Daughter: I Had A Dream My Father Died
The daughter of late Raggae icon Ras Kimono who passed away on the 10th of June 2018 after a brief illness has opened up on dreaming about his death.
In this chat with Benjamin Njoku, Oge Kimono said:
My father was my everything; he was my best friend, my partner in crime. He was my gossip partner and also, my adviser. People have always asked me what I would miss most about my dad, and I told them I would miss everything about him.

There is no particular thing. Everything about him is what I would miss. He was true to himself. I'm yet to see anyone that has negative thing to say about him. All I have been hearing is that he was a good man, he was selfless, humble and dedicated. And that's exactly what my dad was.

He was an open book to everyone. The bond we shared was such that people started suspecting whether I was his daughter or his girlfriend. At a point, we were that close because everywhere he was going I would accompany him.

Not growing up with my dad did not mean that he was not in my life. Every opportunity, he had to show me love he used it. He was always visiting me. And I think it was the best thing any musician would do for his kids; to keep them away from the limelight. To separate business from his family and my dad was one that made sure that every opportunity he had, while performing in the eastern part of the country, he would stop over to see me.

That was where the bond I shared with him started deepening. Growing up with my grand mum, I had the best of everythings. It was sweet memories. At this point, it hasn't dawned on me that my dad is no more. May be, when everything is over and the sympathisers returned to their homes, the realization would definitely set in.

Since I returned to the country in 2010, I have been having dreams in this direction. I lost my grand mother first, then my mum and now my dad. The thought of loosing my dad has always crossed my mind. But God has been always faithful.

Like I said, I have been having dreams and may be , it was a way of preparing me to be able to be strong, to carry on with my life. I remember vividly the last dream I had of him.

In that dream, he was the one that called me and said that my dad was dead. The next morning I called him and relayed my dream to him. This was about three years ago. I cried profusely in that dream and I woke with my tear stained face the following morning. It felt so real that I had to put a call across to find out if he was okay.
The late Reggae star will be laid to rest in Delta state today.
May his soul rest in peace.