Crime News
Phillips Idowu Charged With Drunk Driving: Nigerian-British Olympic Gold Medalist Gets 2 Year Ban
Oct 8, 2013 –  Nigerian-British Olympic Gold Medalist Phillips Idowu Arrested By Police In London For Drunk Driving, Gets 2 Year Ban

An Olympic silver medalist who won titles around the world in triple jump events has been charged with drink-driving.
Phillips Idowu, 34, was pulled over by police in Epping, Essex, while he was allegedly almost three times over the drink-drive limit.
Idowu, who won the silver medal at the 2008 Beijing Olympics and a European gold medal in 2010, is currently on bail ahead of an appearance at Chelmsford Magistrates' Court on Monday.
He gave a breath sample to police after they pulled him over in his white Land Rover at 10am. The sample showed he had 96 micrograms of alcohol in 100ml of breath, according to papers filed with the court. The figure is almost three times the legal limit of 35 micrograms per 100ml of breath.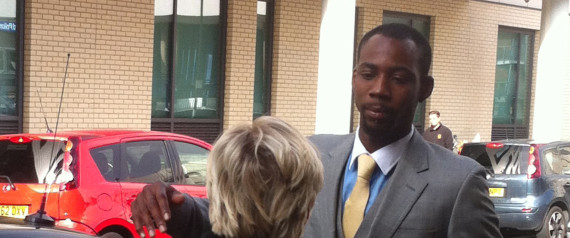 Idowu was arrested on 20 September and charged with drink-driving. An Essex Police spokesman confirmed that he had been charged.
He said: 'A man is due to appear in court charged with drink driving after he was stopped by police on Bridge Hill, Epping, shortly before 10am on Friday September 20.
'Phillips Idowu, 34, unemployed, of Crossing Road, Epping, has been bailed to appear before Chelmsford Magistrates Court on Monday October 7.'
The athlete has a string of victories to his name, though he failed to make it past the qualifying rounds of the London Olympics last year.
He has five gold medals to his name, including the 2009 World Championship, 2010 European Championship and 2006 Commonwealth games.
The court heard Idowu, who was hampered by injury at London 2012 and was unable to qualify for the final in his home Olympics, was described by police as 'unemployed' and is currently living off savings.
He was ordered to complete 50 hours of unpaid work within the next 12 months, was banned from driving for 24 months, and must pay a fine of £145 and £85 costs.
Note: In the UK, Driving Under Influence is called Drink Driving…. In other countries, it's called DUI or Drunk driving. So it's not a typo of any form.
If you're not based in the UK, you might think the headline has a grammatical error.
[Source: Mail Online]