Crime News
Photos: Nigerian Army Deserter Operating Fake Soldiers Gang Says He Fled The Army Over Boko Haram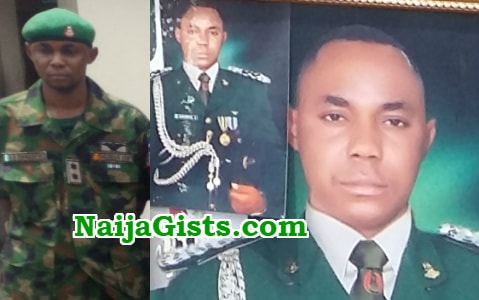 Emmanuel Anthony
Meet Lance Corporal Emmanuel Anthony, who was dismissed in 2016 for deserting the Army.
In his confession today, the suspect said he fled from the army because he was afraid of fighting the Boko Haram sect.
Anthony was paraded at the headquarters of the 81 Division of the Nigerian Army in Victoria Island, Lagos, alongside 12 others including three dismissed personnel arrested for similar offences.

The suspects are – Abdullahi Mubarak, Ibeh Emeka, Olasunkanmi Olamide, Godwin Emmanuel, Private Ahmed Yahaya, Ale Ayokunle, Robert Danang, Corporal Abubakar Suleiman, Private Ibrahim Isah, Monday Ogar, Emeka Stephen and Bala Gabriel.

He was accused of operating a gang of fake soldiers with military uniforms, accoutrements, recruitment forms and identity cards in their possessions.
Anthony said he fled the army in 2016 when he was posted to the North East to fight Boko Haram militants.
He said:
"I was a Lance Corporal. I deserted the army in 2016. I ran from the North East where I was deployed to fight Boko Haram. I was given two weeks pass to go and see my family but I did not return.

"I went to Akwa Ibom State and stayed there for over a month. I was declared wanted and the army arrested me. I was punished and sent back to the North East but I fled. I was afraid and did not want to fight Boko Haram.

"When I was dismissed, I decided to pretend as army officer. I impersonated an Army Lieutenant. I bought the uniform and the rank. I did fake identity card and also printed pass forms which I usually filled and stamped each time I went out to show any personnel who checked me.

"I used to pretend to be officer to escort Tokunbo vehicles from the border and I get paid for it. Yes I saved army recruitment form in a flash drive. I did it because someone requested for it and he was to pay me N3,000."
According to the General Officer Commanding (GOC) 81 Division, Maj.-Gen. Enobong Udo, the suspects were arrested at different locations in Lagos and Ogun States.
Udo, who was represented by the division's Chief Staff Officer (COS), Brig.-Gen. Hamisu Hassan, said they had apprehended at least 36 impostors since January.
He added 23 had been handed over to the police for further action.