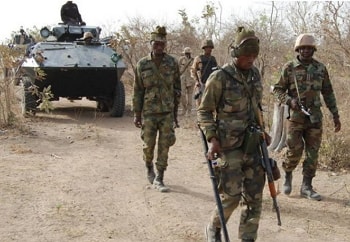 The Nigerian Army said its troops had destroyed camps abandoned by herdsmen militia in Gbajimba, Kaseyo and Adagu communities in Benue.
According to a statement by its Spokesman, Brig.-Gen. Texas Chukwu, the feat was achieved during a patrol.
Chukwu said that one motorcycle was recovered from the camp during the operation.
He also said that troops had cleared some identified armed robbers and kidnappers hideouts in Shaka, Ananum and Donga settlements of Taraba.
He said during the operation, they recovered one wooden gun with the shape of an AK 47 rifle at Shaka village. NAN