Crime News
Police Battle 10 Robbers in Early Morning Bank Raid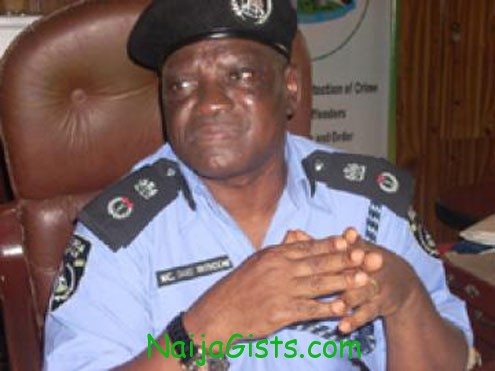 Nicholas Nkemdeme, Ogun State Commissioner of Police
Dec 14, 2011 – Police Battle 10 Robbers in Early Morning Bank Raid
They reportedly arrived the bank in three Toyota Hiace buses and one Sienna Toyota bus. They were armed with sophisticated guns.  The robbers tried to gain access into the bank by breaking the louvers, destroying the Automatic Teller Machine, ATM, with guns and sledge hammer. naijagists.com
But unknown to the robbers, two mobile policemen on guard at the bank sighted them and opened fire.
The other robbers who had positioned themselves at strategic positions outside the bank, it was learnt, started shooting into the air.
The two mobile policemen, it was gathered, immediately sent a distress call to the Sango Area Commander, Assistant Commissioner of Police, ACP, Oyinlola, who mobilised his men and trekked to the scene.
A gun duel between the robbers and policemen ensued. Residents who spoke with P.M.NEWS disclosed that they could not sleep during the shootout between the robbers and policemen. "The shooting was intense. The robbers didn't give up easily; they were firing their guns while policemen were also shooting," a resident who identified himself as Demola.
Investigations revealed that the robbers later took to their heels and escaped through Ijoko, Sango when policemen from other formations surrounded the area. They abandoned one of their vehicles, a blue Toyota Sienna bus.
On the arrival of journalists, two residents of the area who saw the robbers running away, said they saw them carrying one of their dead colleagues into another bus before they sped off.
As at the time of filing this report, security had been beefed up in Sango, Ota and its environs. Scores of armed mobile policemen were seen on the road. The abandoned vehicle was also sighted at the Sango Police Station(daily times).