Hot Gists
Police Seized Cynthia Osokogu's Corpse, Burial Delayed
Cynthia Osokogu's Burial banner
Sept 7, 2012 – Police Seized Cynthia Osokogu's Corpse, Burial Delayed
Lagos state police refused to release the corpse of Cynthia Osokogu, the Facebook girl murdered by suspected kidnappers in a hotel in Lagos, to her parents for burial in her hometown today. naijagists.com
According to sources, the police had planned to do an autopsy on the body yesterday at the Ikeja General Hospital morgue. Police Commissioner Umaru Manko said the pathologist did not complete the autopsy and hence the decision not to release Cynthia's body for burial.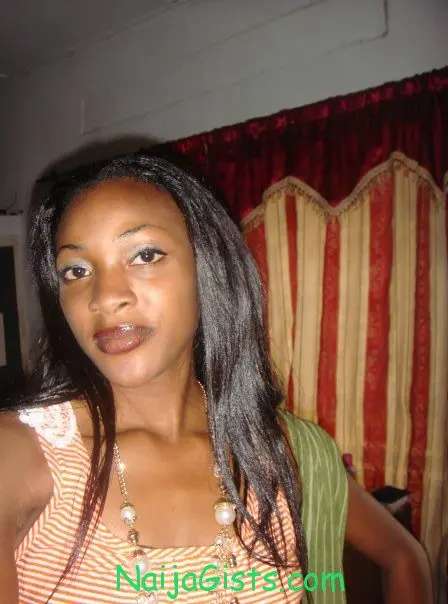 The Late Cynthia
It was not clear whether the autopsy delayed the release of the body. One source said the police needed to conclude the autopsy since the report is vital to the trial of the suspects, who had confessed killing the girl.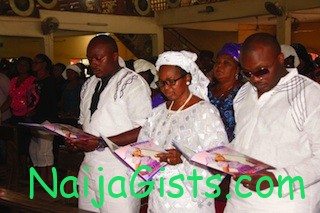 Cythia Osokogu's mum and brothers
Cynthia's burial which was scheduled for today in Agbor, Delta State, south-south Nigeria, had to be delayed when the remains of the deceased did not arrive Agbor, her home town, as expected. A decision was later made by the family to give her a ceremonial burial.
The retired Major General Frank Nwafor Osokogu, father of the deceased, that the police were yet to release the corpse for burial.
The 24-year old was murdered on 22 July in Lagos State by friends she met on the Facebook.
She was a graduate of English Language at Nasarawa State University and was pursuing a Master's degree in Public Administration in the same institution after resigning from MTN.
A ceremonial burial was performed at the family residence in Boji-Boji Owa, Ika North Local Government Area of Delta State after a requiem mass.
The Governor of Delta State, Mr. Emmanuel Uduagan condoled with the Osokogus today and called on the police to conclude investigation quickly and bring the culprits to book.
Senator Ifeanyi Okonwa and the Obi of Owa, Emmanuel Efezomor 11 and others attended the ceremonial burial.
Friends of Cynthia with her picture on their black shirts wept uncontrollably at the ceremony.
Cynthia was born on 10 November, 1987 in Agbor town.
She started schooling at the Command Children School, Ilorin and moved to the Command Secondary School, Jos from 1997 to 2004.
She secured admission into the Nasarawa State University, Keffi between 2005 and 2009 and went for her National Youth Service Corps. She finished in 2010.
She opened a boutique, 'Dress Code,' in 2007 and was doing a post graduate course at the Nasarawa State University before she was lured to Lagos by suspected kidnappers and killed.
Her eldest brother, Flight Lieutenant Kenneth Uchechukwu Osokogu, described her as a good girl.
"She was the closest person to me. When we came on holidays during Christmas, New Year or burial ceremonies, she slept here in the second room," Kenneth said as he pointed to a room with Cynthia's obituary portrait now on the bedroom's window.
"She didn't tell me she was going to Lagos for business. But she was a good girl. She was smart and intelligent and she was in her business for long to know where to get goods. She just did what most normal girls do but fell into the wrong hands," he said.
"She had monthly allocation from her father and me. She had her own business and did not need money. She was comfortable.
"I am the one that went to Lagos to identify her body. The police told me, according to confessions made by the suspects, she had been talking to them for four months. They told her they were in the same business, that they were retailers and would sell her goods at cheaper price. You know we have a relation in the United States who often sent her goods and these people told her they had the same goods and will sell at cheaper price. She believed them," Kenneth said.
Cynthia's immediate elder brother, an Assistant Superintendent of Customs, Mr. Williams Ehiedu Osokogu, described her sister as a loving and a caring lady.
Cynthia was the last born and only daughter of a family of four. Her parent's second born, Mr. Tony Azubike Osokogu, lives in Greece.
"How do we get another sister now," Williams Osokogu asked, tears tricking down his cheeks.
Mother of the deceased, Chief Mrs. Joy-Rita Nkem Osokogu, wore a sombre mood. She was being consoled by women who came from far and near.(pm reports)