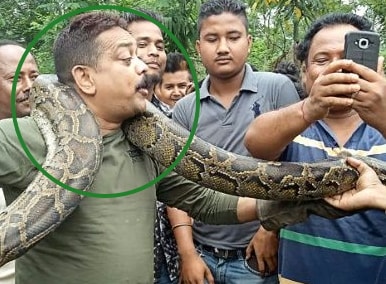 18 Foot Python Snake Strangles Man, Forest Guard In West Bengal India..Video & Photos
A forest guard in West Bengal India escaped death over the weekend after a deadly python attempted to strangle him during a rescue mission.
The forest guard identified as Sanjoy Dutta was among the first responders to a distress called made by residents of Jalpaiguri district of West Bengal.
On getting to the location, Dutta and his crew captured the reptile and as he was about taking it into the forest, he placed it around his neck for a photograph.
Suddenly, the snake got hold of his neck and attempted to wrap its body around him, worried onlookers screamed in fear as they watched Dutta struggled with the reptile.
The brave ranger with the help of his crew managed to loosen the reptile's grip before releasing it into the forest.
See video below