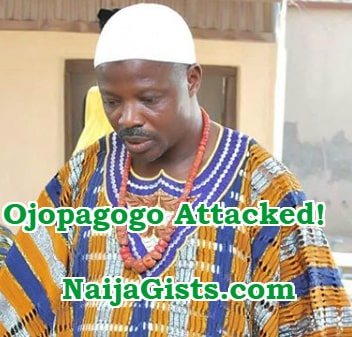 Nollywood Director Rasaq Olayiwola Ojopagogo Attacked Spiritually By Actress He Replaced On Movie Set
……..How He Spent 14 Days In Hospital
Ibadan-based Nollywood producer and director Rasaq Olayiwola popularly called Ojopagogo is down with a mystery ailment he suffered following an encounter with a lady on a movie set in Owode, Oyo state recently.
According to insiders, the actor was directing a movie for another producer Afeez Olalekan when a lady who's supposed to take the lead role could not play her part well, so he replaced her with another actress.
Sadly, hours after the decision, the actor collapsed and was rushed to a private hospital in Owode town.
He spent 2 weeks in hospital before he was discharged.
According to an unconfirmed report, the lady was seen at a party recently where she confessed that she was the one who attacked Ojopagogo. A close source to the actor who overhead the mystery lady's conversation broke the news.
To cut the long story short, the actor has confirmed the attack.
Here is what he told a Lagos softsell magazine reporter, Gbolahan Adetayo;
"Indeed, I was so strong after I finished directing the job that faithful night.

I was at Saint Michael Hospital for two weeks. It wasn't something very serious like that.

I just need to rest. Doctor report revealed that nothing was wrong with me, all I needed was enough rest

I have always been a man of my word, if you are good of course you will always gets juicy roles to play but if you are not, you just have to learn.

So I have nothing against anybody. I am not interested in dwelling much about the said actress."