Crime News
RCCG Minister, Worship Leader Commits Suicide In Abuja… Michael Arowosaiye Hangs Self With Belt At Sunnyvale Estate
RCCG Minister, Worship Leader Commits Suicide In Abuja… Michael Arowosaiye Hangs Self With Belt At Sunnyvale Estate
A top music minister at the Redeemed Christian Church of God, Michael Arowosaiye has ended his own life.
According to friends, Michael who has been struggling to get an accommodation since early this year took his own life yesterday Tuesday the 14th of May 2019 at Sunnyvale Estate in Abuja.
The deceased who battled depression took the desperate step around 4pm yesterday by hanging himself with his own belt.
What baffled many is the fact that he recently ministered at a praise event with no signs of depression.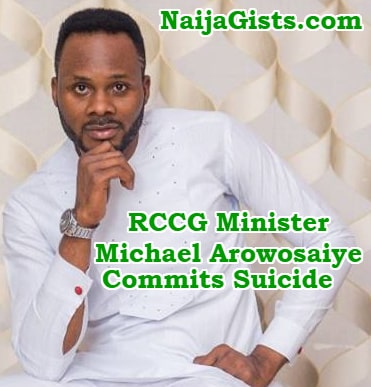 Another source said his battle with depression was caused by his struggle with accommodation problem and untold hardship caused by job loss.
Here is his last post on Facebook.
See comments from friends and fans of the deceased.
Omavowan Eferire – Oh my God ..what a colosal lost .
Okiche Godspower Edeh – I tell you it takes alot of high personal morale to run a ministry, no one would ever ask you if there's any challenge and those who have arrived would always want you to suffer because they claim what they went through is fried rice compared to what you're going through but I have never seen a biological father who allows the son to suffer in his riches because he suffered to acquire them.
Rest On Minister But You Loosed Faith and Let the Devil took Over.
Chioma Odoemena – Chaiiii it's real oh depression God help ur children
Abigail Peter -And this is why our pastor's should be helping their members with not buying private jet ooo..
Ruth Popoola -This can never be possible ,if he had pour out his mind to d pastorate ,trust me something would have been done earlier
Francis Otafia  – So many people look at depression a badly behaved mind set, but what they don't realise is the mental battle people go through just to fight against the emotional stress of depression. It is a daily battle to look and feel positive, and it feels unnatural when you do feel confident infront of people. There is always that fear of making mistakes that bring back the depression.
Anytime you contemplating suicide go to your room, get naked and observe the hair around your anus! If these hairs can survive under those unfavourable conditions, buddy I can tell you without any shadows of doubt that there is hope for you anywhere you are! Say Amen!.
Adeyemi Ajibade Kenny –  pls kindly put this as a point of prayers in our homes. Every spirit of depression and suicide ministering ,let the power of the almighty God quench it. The devil is swinging it hard on the youths these days.
Melody OJ There is more to thus story… Due to accommodation? I can't believe this…. Some how spiritual