Hot Gists
Rude Nollywood Actress Liz Anjorin Curses Fan Who Asks Why Her PA Calls Her Mummy
Popular Nollywood actress Liz Anjorin has showed fans the other side they don't want to know about her.
The actress cum business woman who is currently on a business trip with her Personal Assistant, Arike posted a  video clip of their movement.
However, the PA's respectful manner baffled a fan of the actress who simple asked her why Arike the PA calls her Mummy and not Aunty which would have been more appropriate.
Lizzy Anjorin however flared up at the question, took a trip to the young lady's page where she gathered that the fan had lost her mother. In a post on her page, after responding dire try to the comment, Liz then cursed the young lady and even cursed the soul of her late mother.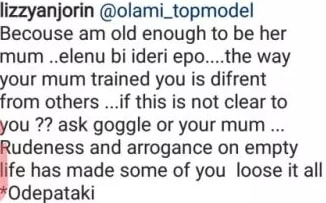 Her fans however stated that the actress had gone overboard with her response.