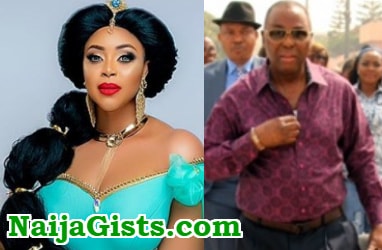 If the latest report coming from Nollywood is anything to go by, then actor Charles Billion baby mama has moved on.
Mimi Orjiekwe whose marriage to the actor crashed shortly after she gave birth to her first child is pregnant.
Her pregnancy is without controversy as she is now expecting a child for controversial Warri Big Boy, Oil Billionaire Mike Ikuku.
Ikuku who has been linked with top Nollywood actresses in the past has moved Mimi and her first child into one of his mansions at Banana Island in Ikoyi Lagos.

Stella Dimokus sources revealed that the actress who was recently spotted where she went for ante natal care has started showing.
SDK claims that photos on Miss Orjiekwe's Instagram are not recent.
Mike Ikuku, a confirmed polygamist has many children and undisclosed amount of wives scattered all over the nation.
According to reports, Orjiekwe is his youngest mistress.