A LONE VOICE FROM EAST FOR OUR ENVIRONMENT
As at this morning, it would have been close to three weeks since the government of Nigeria declared a total lockdown in two States and the federal capital territory, and advised all Nigerians to stay at home.
All over the world, governments, religious leaders, celebrities, scientists, experts, politicians, just name it, everyone is unanimous in advising people everywhere to stay indoors, to stay safe because of the Covid 19 pandemic that is currently ravaging the world. The infection of over 2,000,000 and the deaths of over a 165,000 people worldwide, with America becoming the worse hit as of today with over 40,000 deaths, and China, where the virus was first reported, dropping to around 8th position with a little over 4,500 deaths, has brought to the fore in the minds of people, especially Nigerians, how serious the situation is.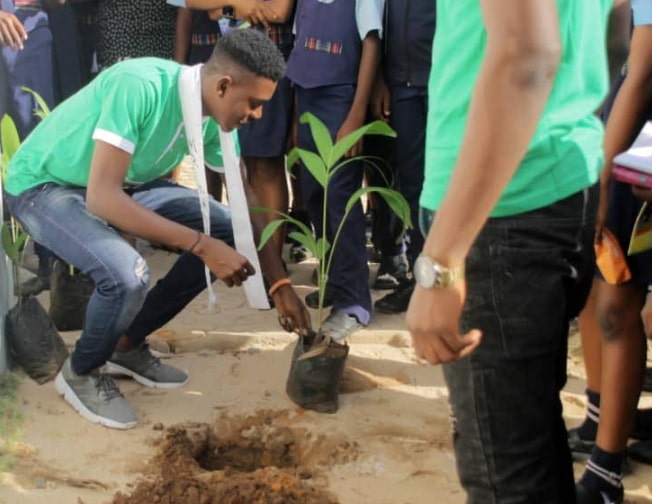 And this is discounting the deaths of close to 20 Nigerians and recent death of one of Nigeria's most powerful government official, the late Abba Kyari, may God rest his soul, all of whom died due to complications resulting from Covid 19 infection.
A pandemic is the worldwide spread of a new disease, apart from the fact that pandemics are not new, they are dangerous in the sense that they have the potentials of wiping out whole populations. And so, our fear is in order.
But how many Nigerians know that even the earth which we call home is at a much more dangerous risk as a result of what man is doing, and not doing, to the environment, comparable to what we currently face due to Covid 19? This is the question 21-year-old Iroegbulam Chidubem Chris is calling all Nigerians to consider. We will get out of Covid 19 a stronger people he said, but we must incorporate the fight to protect our environment into the post Covid 19 structural programs we plan for Nigeria.
On the 12 of October 2014, 15-year-old Chris was in class when he suddenly felt uncomfortable.  Within minutes, he found that he had difficulty breathing. His class teacher quickly called his father who promptly arrived the school and drove him straight to a private hospital in Owerri the capital of Imo State. It was soon discovered that he had lungs problems. After a few days in the hospital, he got better and on the day of his discharge, the doctor gave a stern warning to him. Avoid smoke, fire and dust. Before this episode, Chris had found that even as a child, he'd love anything that had to do with nature, i.e. trees, flowers, plants and the likes. From the day he left the hospital, young Chris started to read book about his condition, about nature and about the environment. Ironically, he lived in an area where bush burning and littering the environment indiscriminately with refuse was a norm. But reading opened his eyes to a lot about how these things do not only pose a threat to humans but to the environment and the planet at large. So he took a decision to make a difference, to start educating his people, and today, he is a lone voice for the east, for our environment.
Chris insists there are human activities that cause damage, either directly or indirectly, to the environment on a global scale. We are destroying nature at an unprecedented rate, threatening the survival of a million species, and our own future too. If the earth is destroyed beyond repair, we won't be here to worry about a Covid 19, he said.
For example, the Niger Delta is one of the most endowed floodplains in the country and it makes up to 7.5% of Nigeria total landmass. In addition to a very rich biodiversity on the planet, the area supports abundant flora and fauna, arable terrain that can sustain a wide variety of crops, lumber or agriculture, tress and so on, but look at what oil spill is doing to the region? Year in year out, there is the challenge of the loss of hectares of mangroves, depletion of fish population, natural gas flaring, etc., all due to the activities of man, he lamented.
Nigeria has a total land area of roughly 983,213 km2 occupied by over 200 million people. But every day, we see the activities of people here as is the case elsewhere in the world, leaving indelible marks on the planet by way of unplanned urbanization, deforestation, desertification, over population and all kinds of pollution and indiscriminate dumping of refuse and all that.
But the good news he announced, is that it is not too late to start a process to save our environment and us.
In his own little way, he has been calling attention to the dangers some of our actions pose to our environment.
Incidentally, in 2018, he emerged Mr. Nature Nigeria and decided he would use that platform to contribute his quota to the betterment of the environment.
An alumnus of Holy Ghost College Owerri, and a student of Linguistics and Communication at the Imo State University, as Mr. Nature Nigeria, Chris runs a yearly programme tagged "SATT, Save A Tree Today" aimed at revolutionizing the minds of teenagers and youths toward tree planting. Through this programme, he organizes symposium to coincide with the World Environment Day where speakers teach youths the dangers of deforestation and all that.
His "Pick A Plastic" campaign often see to ridding Imo State University premises and part of Owerri metropolis off tones and tones of plastic waste on a yearly basis. The campaign is aimed at keeping the State clean. He also partners with the Imo State Environment team and a number of pageant companies in seeing to this aim. He has also gone on to lead campaigns to plant countless trees in Imo State.
He maintains that the solution to our environmental challenges must go beyond some of the objectives of the Federal Ministry of Environment FME. Our environmental protection laws must be reviewed, protection techniques should be indigenized, and all our laws must be written and delivered in our local languages and dialects.
He advised the government to take cognizance of our different ecological zones in designing our environmental protection laws, going forward. Most importantly, environmental education must be included in our primary and post primary school curricula and a post Covid 19 Nigeria must include a robust plan to tackle our environmental challenges.
The best time to plant a tree is 20 years ago, the next best time is now, he concluded.
About the author: Albert Afeso Akanbi is a writer, documentary filmmaker and humanitarian. He writes from Abuja, FCT, Nigeria.
He can be reached on Twitter: @RealAfesoAkanbi IG: @RealAfesoAkanbi and Blog: akanbiafeso.wordpress.com